Not so long ago we learnt about the horrific incidence of a Delhi businessman being hospitalised after drinking a cocktail containing liquid nitrogen, leading to a hole in the stomach. This also sparked talks on the use of liquid nitrogen in food and beverage, and whether it should be banned for the safety of the consumers. Haryana government has now announced the prohibition of flushing/mixing liquid nitrogen with any drink or food article, an official said on Friday. Food and Drugs Administration Department's Commissioner (Food Safety) Saket Kumar said orders to this effect have been issued under Section 34 of the Food Safety and Standards Act, 2006, (Central Act 34 of 2006).

Kumar said according to expert medical opinion, any drink or food article whose preparation involves flushing/mixing of liquid nitrogen is harmful for humans.





"Due to its low temperature, liquid nitrogen could be extremely damaging to body tissue, causing frostbite and cryogenic burning on contact. Moreover, if ingested, it could lead to severe internal damage, destroying tissues in the mouth and intestinal tract," Kumar added.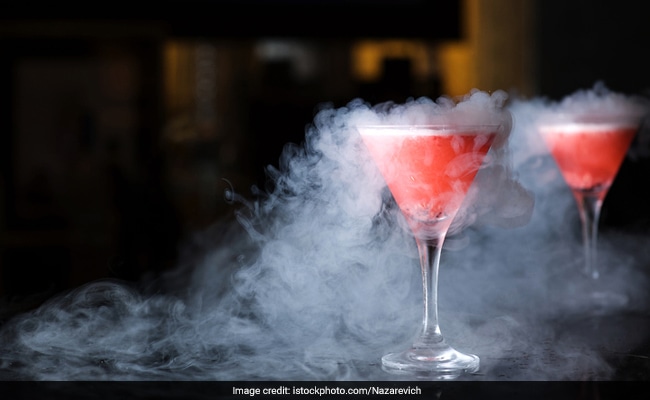 He said as it evaporates, liquid nitrogen releases a large volume of gas, and could burst open the stomach if ingested in sufficiently large quantity. In case of the Delhi businessman, doctors who attended on the victim said his condition was so critical that his stomach looked like an "open book".
So why really is liquid nitrogen used in food and beverages? Here are 4 quick facts -
1. Liquid nitrogen is commonly used to make ice creams, as it helps in fast freezing the ingredients. In modern gastronomy, it is used to create a number of innovative dishes, fast freezing a wide variety of ingredients, including oil.
2. It is colder than -346 degrees Farenheit. So it is strictly recommended to not come in contact with bare hands or let it spill on you. It is intensely cold, and can cause frostbite or cryogenic burns.
3. Liquid nitrogen has this incredible property to expand when released. One litre of liquid nitrogen can result in about 700 litres of gas. Hence, when consumed, it tends to release a large volume of gas that would burst open the stomach.
4. Any dishes or cocktails served with liquid nitrogen would come with a whiff of fog-like vapour. One is advised to consume it only after the vapour has completely evaporated.