Sarson ka Saag is a vegetarian dish which is made using seasonal mustard leaves along with other leafy veggies like bathua (Chenopodium or pigweed), spinach and radish leaves. A mix of spices is stirred in to build up the flavour and it is then served hot with makki ki roti topped with white butter.
Winter is the time when vegetable markets are loaded with lush green leafy vegetables. "Mustard leaves have a distinct bitter taste, which goes away after cooking it to a certain extent. Usually, a little jaggery is added in to balance the flavour. Sarson ka Saag tastes best with makki ki roti, home-made white butter, and jaggery. It's hard to tweak around with a perfect combination as this. Traditionally, the saag was cooked in earthen pots with charcoal underneath that gave it a smoky flavour," says Vikram Arora, Executive Sous Chef at Hotel Four Seasons, Mumbai.
5 Benefits of Sarson ka Saag or Mustard Greens
1. Rich in Anti-Oxidants
Mustard green is a powerhouse of antioxidants, which include Vitamin A, Vitamin C, Vitamin K and Vitamin E, along with phytonutrients such as phenols. Research studies have found mustard greens to contain among the highest amount of flavonoids (polyphenol molecules), after kale. Antioxidants are substances which help in preventing cell damage caused by oxidative stress. The antioxidants present in mustard greens help in providing protection against such damages and clearing free radicals, which could lead to cancer and other ailments.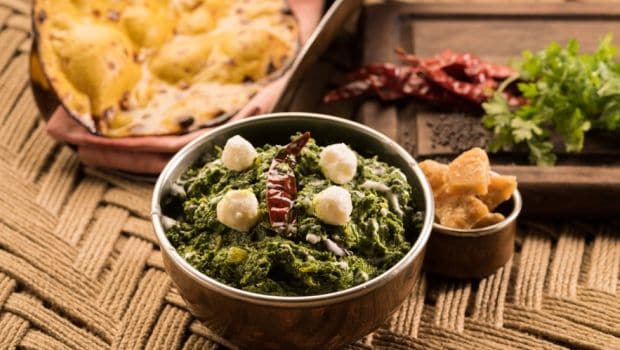 2. Good Source of Iron
Mustard greens are not only a good source of iron, but they are also rich in calcium, magnesium, zinc, potassium and manganese. That is the beauty of seasonal greens, which come packed with essential nutrients that help in various functions of the body.
3. Good for Eye Health
To keep our eyes healthy, it is very important for us to up the intake of Vitamin A in our diet. In one cup of mustard greens, there is lots of vitamin A, making it probably of the best sources of it. Lack of Vitamin A can lead to ailments such as night blindness, so it is important to take care of your eyes by giving them required amount of Vitamin A.
4. Helps in Controlling Cholesterol Level
Mustard greens have proved to be good at decreasing bad cholesterol level in the body. Regular intake can help you in keeping a check.
5. Contains Dietary Fibre
Adequate amount of fibre in our diet makes the bowel movement easier, thus aiding digestion, and helps in protecting from problems like constipation and colon cancer.