Makki Ki Roti
with
Sarson Ka Saag
is one of the most cherished winter treats in North India. Just a mention of it can make one droll - wholesome
rotis
made with maize flour and served with sautéed mustard greens.
Maize flour or cornmeal is made using the dried corn grain, which is milled into a smooth, pale yellow coloured flour. Polenta is the porridge made from corn meal.
Corn is a rich source of vitamins A, B, E and essential minerals. It is high in fiber content, which plays a significant role in the prevention of digestive aliments and thus is perfect for those following a gluten free diet. Studies have also found that the antioxidants present in corn are great in prevention of diseases like Alzheimer's, diabetes, heart ailments, lowering hypertension and many others.
Corn or maize is a popular cereal all around the world, and considered a staple in India, United States and Africa.(Looking for organic maize flour and other flour products? Shop now!)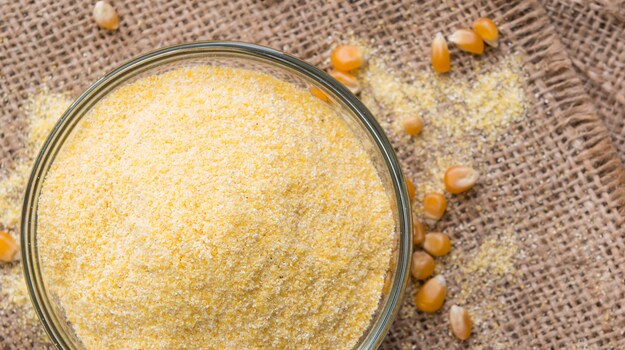 Forms of Corn or Maize
1. Fresh Corn: This is the 'bhutta' you eat from the street. It is used in making Chicken Corn Soup, Spinach and Corn Pies, etc.
2. Frozen Corn: This is the corn you eat at malls or movie theatres with butter, herbs and masalas. Most of these are imported. The canned version can also be used in soups and stir-fries.
3. Corn Meal or Maize Flour: Dried corn kernels are used in making corn meal, which is commonly known as Makki ka Atta in Hindi. I love baking bread sticks and lemon and poppy seed cookies with it.
4. Corn Starch or Corn Flour: It is the starch derived from the corn (maize) grain. The starch is obtained from the endosperm of the kernel. Corn starch is used as a popular thickener for soups and sauces.
The best part about corn is that it is locally grown and is inexpensive. Moreover, it comes packed with essential nutrients and is an excellent source of fiber.(Shop for fiber rich food sources on SmartCooky.)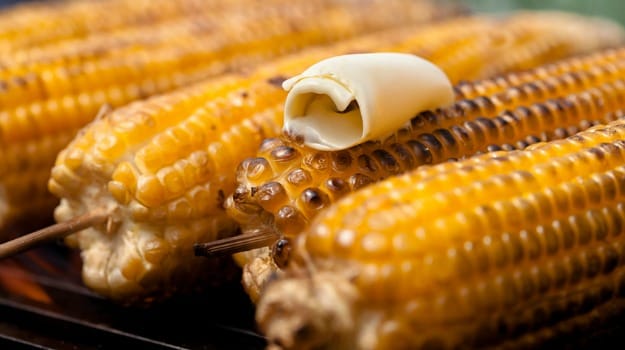 Maize Flour Recipes
Here are some of my favourite recipes using cornmeal or maize flour -
1. Rosemary Cornmeal Bread Sticks
Recipe by Aarti Sarin Jain
Ingredients:
1 cup warm water
2 1/4 tsp yeast
2 cups gluten free all-purpose flour
1/4 cup yellow cornmeal
2 Tbsp olive oil
1 tsp salt
1 Tbsp fresh rosemary, chopped
Method:
1. Pour the warm water and yeast into a small bowl. Set aside for 5 minutes until the yeast is dissolved and foamy.
2. In the bowl of a food processor, combine the gluten free all-purpose flour, cornmeal, olive oil and salt. Pulse several times to mix in.
3. Add the rosemary and the yeast mixture and pulse again for approximately 10-12 times, until the dough forms a ball. (You can do this by hand too).
4. Scrape the dough into an oiled bowl. Cover with plastic wrap and let the dough rise for 40-60 minutes.
5. Divide the dough and make long rolls (sticks). Just dust a bit of cornmeal on the surface before you start rolling it.
6. Preheat oven to 350 degrees F and prepare a baking sheet by greasing it. Place the sticks about one inch apart.
7. Bake for 15-20 minutes until bread sticks are golden.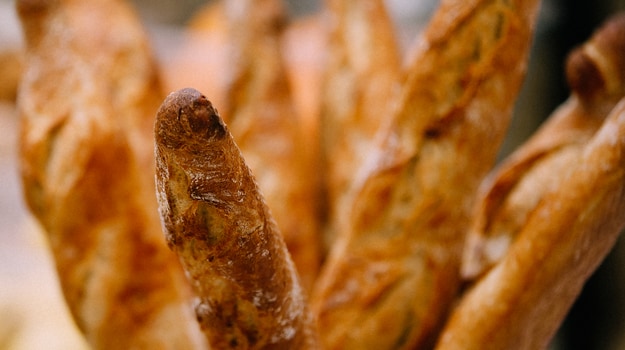 Tip:
Refrigerate the dough for 30 minutes and then roll. It won't break and will be easier to roll.
Don't expect the dough to rise too much.
If you want the bread sticks to be super crisp, leave them in the oven for some time after the oven is switched off.
2. Gluten Free Lemon and Poppy Seed Cookies
Recipe by Aarti Sarin Jain
Load these cookies up with flax seeds, poppy seeds and nuts for flavour and crunch.
100gm unsalted butter
1/2tsp fresh lemon juice
1 egg (room temperature)
1/2 cup brown sugar
1/4 cup granulated sugar
1/4 cup brown rice/ white rice flour
1/4 cup cornmeal
1/4 cup buckwheat flour
2 Tbsp potato starch
1/4tsp baking soda
1/4tsp salt
1/4 tsp xanthan gum
Lemon rind and poppy seeds
Method:
1. Preheat the oven to 180 degree C and prepare the cookie baking trays.
2. Sieve the white rice flour, cornmeal, baking soda, salt and xanthan gum and put aside.
3. Melt the butter. Let the butter acquire a light brown colour (make sure you don't burn it).
4. Add both the sugars in the butter and continue stirring till it is completely cool. Let it rest in between for a few minutes and then start again. It will take you 10 minutes to do this.
5. Whisk the egg in the sugar mixture until well combined and emulsified. Use a sturdy spatula or wooden spoon.
6. Stir the flour mixture vigorously for 45 seconds till the mixture firms up slightly.
7. Add in the rind and poppy seeds.
8. Cover the dough and let it sit at room temperature for 1hour.
9. Roll the cookies and bake for 10 minutes, rotating the tray once at 5 minutes.
10. Cool on a wire rack and store in an air-tight container for 3 days.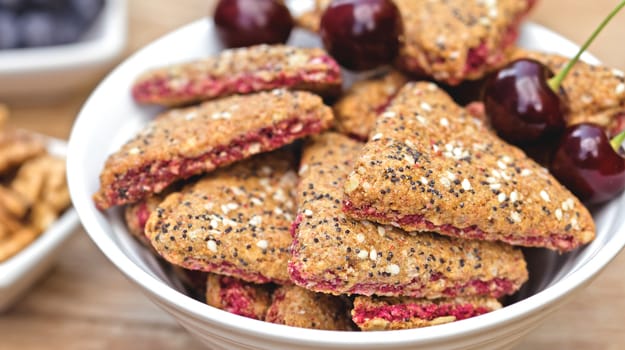 Tip:
Add flax seeds, poppy seeds and nuts, including the ones your kids are not particularly fond of. I remember my sons didn't like almonds and through these cookies they have developed a taste for it.
If you are using raisins, soak them in warm water and then add them.
Recipe by Ruchira Hoon
Move over maida-based tart shells, maize flour is here! Go gluten free with these savoury maize tarts filled with a delicious cheese and vegetable mixture. For the recipe, click here.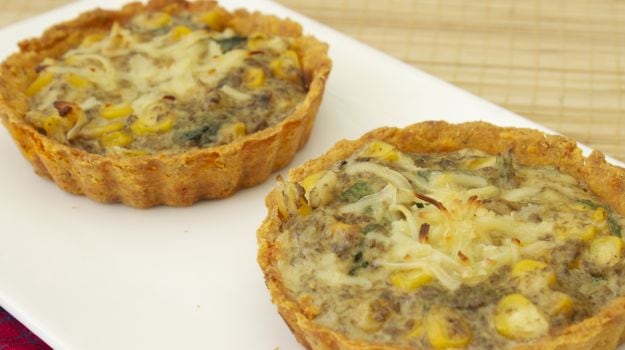 About the Author:
Aarti Sarin Jain is an avid baker and runs an exclusive gluten-free test kitchen. She discovered the joys of a gluten-free living after her elder kid was diagnosed with Celiac Disease. She often experiments with new forms and varieties of gluten-free food without compromising either on taste or quality. You can read more on her blog, www.bakingfrommyheart.com.
Disclaimer:
The opinions expressed within this article are the personal opinions of the author. NDTV is not responsible for the accuracy, completeness, suitability, or validity of any information on this article. All information is provided on an as-is basis. The information, facts or opinions appearing in the article do not reflect the views of NDTV and NDTV does not assume any responsibility or liability for the same.