London 2012 Football: We're Kicked About This Google Doodle!
NDTV Food | Updated: August 10, 2012 12:43 IST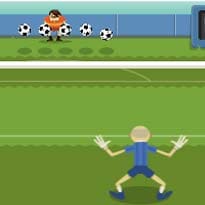 In the last three days, most of us have played sports like never before. We jumped hurdles, played basketball, maneuvered our way through the river rapids. Wow, such talent. Seems like the keyboard slamming won't be coming to an end any time soon as Google presents us with its fourth interactive Google doodle on London 2012 football. Ah, football.

Showing off our goalkeeping prowess was never this easy. Left, right, and jump: the three main keys to guard your goal. This doodle doesn't come with a time limit, as the game lasts till all three goals are scored by your opponent. We found this doodle game far easier than the rest.

The way to a man's heart is through his stomach. Girls, if you're crazy about Messi and Ronaldo you've got to read this. Cristiano Ronaldo and Lionel Messi, love their mother's cooking. Ronaldo loves his mother's grilled cod while Messi gorges on chicken fried steak with Napolitan fries and chocolate-strawberry ice cream.

Footballers need abundant energy to play the game and this energy is found in carbohydrates. Foods like bananas, pasta, and brown rice are rich in carbohydrates. Along with including meat, dairy, veggies and fruits in their diet, footballers also need to include nutrients such as fibre, unsaturated & saturated fats, protein, simple & complex carbohydrates and of course minerals and vitamins.