Hindus are celebrating Mahashivratri today and the festive spirit is hard to miss.
Mahashivratri
or the 'Great night of Lord Shiva', is one of the most auspicious and widely celebrated Hindu festivals. According to Hindu belief, there is a Shivaratri in every luni-solar month of the Hindu calendar, but Mahashivratri is celebrated only once a year, in the month of
Phaguna
. This year Mahashivratri would be celebrated on 13th February, 2018. On this auspicious day, temples around the country witness an outpouring of devotees. Hindu scriptures contain many tales wherein Shiva with his wrath destroyed many evils from the face of the Earth. Another side of Shiva that is popular is his benevolent nature towards his devotees. According to legends, from
devas
to
asuras
everybody worshipped Shiva because he grants wishes without any prejudice or bias. Mahashivratri celebrations begin a day in advance with some devotees observing overnight vigils, singing and chanting songs in the praise of the deity. One of the main rituals of Lord Shiva's puja is the Maha Shivaratri'
Abhishekam.
The Shiva
linga
, a signifier of Shiva's abundant power, is given a ritualistic bath typically with
milk.
Devotees bathe the Shiva
linga
with milk,
honey
,
ghee
,
curd
, and sandalwood paste while chanting
'Om Namaha Shivay'
. Fresh
fruits
are then offered to the deity in order to seek his blessings.Some devotees also observe a day long fast as a mark of devotion for their beloved deity. While some devotees opt for a '
nirjala' vrat,
where they don't even consume a drop of water through the day, most of them go for
'Phallar'
.
Phallar
is where you can have fruits and milks as part of your fast. Non-cereal food such as boiled
potatoes
which is made into a curry without onion,
garlic
, ginger or
turmeric
, is also one of the dishes people can have on
vrat
.One such most loved food that is offered as
Prasad
on Mahashivratri is
Makhane ki kheer
Makhana Kheer
is a delectable dessert made of milk simmered till thick with lotus seeds and flavored with
nuts
and
cardamom
.
Makhana
or lotus seed is a favourite vrat ingredient. Puffy and crunchy,
Makhanas
are broken into smaller pieces and added to milk and simmered for about 1 to 2 hours. The seeds then soften and blend with the creamy
kheer
.
Makhanas
or Lotus seeds come from a plant called Euryale Fox which grows in the stagnant water of wetlands or ponds in Eastern Asia. They found an important place in the science of
Ayurveda
too. They are low in cholesterol, fat and sodium too.(Also Read:
Maha Shivaratri 2018: 5 Quick and Easy Desserts
)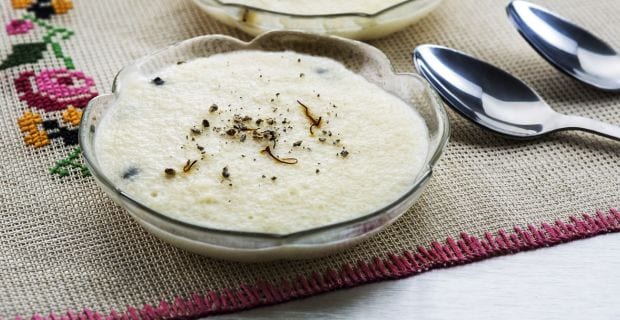 Here is a quick recipe of
Makhana Kheer
that is sure to take the spirit of festivities a notch higher.
About Sushmita SenguptaSharing a strong penchant for food, Sushmita loves all things good, cheesy and greasy. Her other favourite pastime activities other than discussing food includes, reading, watching movies and binge-watching TV shows.