Story Progress
Back to home
Chiraunji Makhane ki Kheer Recipe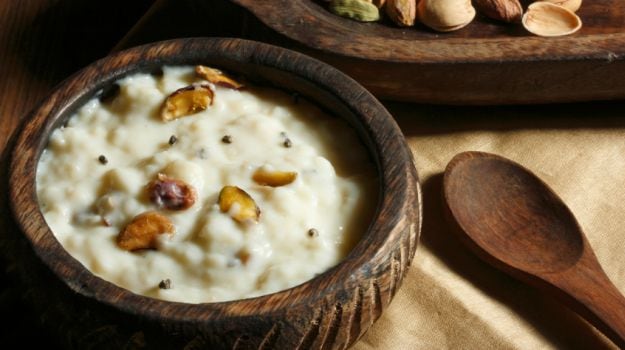 How to make Chiraunji Makhane ki Kheer
About Chiraunji Makhane Ki Kheer Recipe | Kheer: A lovely Indian dessert perfect for a lavish dinner party. One of the most favourite Indian dessert, made quickly and easily with just a few ingredients. Chiraunji Makhane ki Kheer is the perfect dish with dry fruits and bananas combined with milk.This Kheer recipe is also ideal for those fasting during a festival since all the ingredients used can be eaten during the fast.
Ingredients of Chiraunji Makhane Ki Kheer Recipe: Chiraunji kheer is topped with caramelized bananas, almonds, fried makhana and chikki. This is the perfect mix of dry fruits and milk.

Ingredients of Chiraunji Makhane ki Kheer
1 Litre Milk, full cream
1 Cup Chiraunji, soaked
3 Tbsp Condensed milk
4 Ripe bananas
1 Cup Fine sugar
2 Tbsp Makhana
2 Tbsp Almonds
2 Tbsp Rose petal chikki (optional)
1.
Remove as much skin as possible from soaked chiraunji.
2.
Blanch and peel almonds. Chop them.
3.
Reduce milk in a pan and add chiraunji into it.
4.
Simmer and add condensed milk.
5.
Using a hollow tube, remove barrels from bananas.
6.
Sprinkle fine sugar and caramelize using a blow torch.
7.
To serve, pour kheer on a plate and arrange caramelized banana on it.
8.
Garnish with fried makhana, almonds and rose petal chikki.
Recipe Notes
You may add broiled saffron, if desired.
Ever thought about cooking Kheer with Paneer? Yes, you can have your very own Paneer Kheer at home.
Payasam is a south Indian version of Rice kheer and we have got 5 best recipes of cooking Payasam at home.
Read about our best Vrat recipes for Navratri here.