Milk forms an essential part of our daily lives; thanks to its nutritious properties and a healthy dose of calcium, we've always been advised to have at least 2 glasses of milk everyday by our parents and elders. Lately, supermarket shelves are full of all types of milk varieties - there is full cream, toned, double toned and skimmed. The last one seems to have emerged as a favourite of the calorie conscious. Basically, skimmed milk is milk with no fat and therefore considered ideal for those trying to lose weight. But is it really helpful in reducing weight? And what about the nutrition index? Let us look at both the sides of the coin.What is skimmed milk?Skimmed milk is generally free from dietary fat or is fat free and has less than 0.5 gram of fat with no added ingredients containing fat. It is not as 'creamy' as whole milk and appears lighter and thinner in consistency. Many health experts vouch for non-fat milk, considering it is calorie-free and light on your tummy. According to Dr. Sunali Sharma, Dietitian & Nutritionist, Amandeep Hospital, "Skimmed milk or low fat milk is great if you are planning to curb your calorie intake. A glass of full fat milk might contain up to 10 grams of fat and roughly 176 Kilo-calories (Kcal) whereas the same amount of skimmed milk might contain somewhere between 2 grams to 0 gram of fat and somewhere between 89-118 Kilo-calories (Kcal). Also, skimmed milk has slightly more calcium and protein when compared to full fat milk and has no added sugar."
(Also read:
Ever Wondered Why Milk is White in Colour? Here's the Answer
)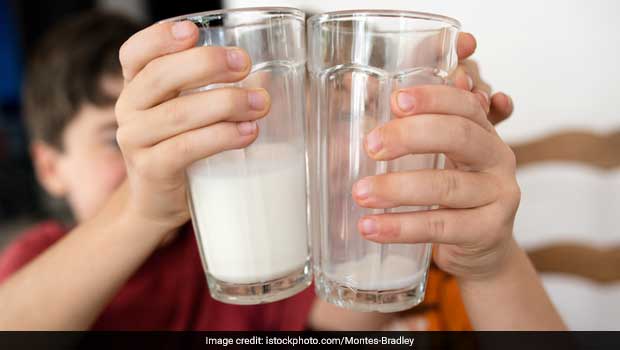 Dr. Zamurrud Patel, Nutritionist at Global Hospitals, Mumbai, agrees, "People looking to lose weight should try skim milk. Whole milk contains fat-soluble vitamins like A, D, E and K. Although these vitamins are in the fat of the milk, skim milk is fortified with vitamin A and D during the fat removal process."Whole milk Vs skimmed milkHere are the nutritive values of both whole and skimmed milk as suggested by Dr. Patel -Nutritive Value of Skim Milk (100 ml - Cow Milk)
Calories - 29 Kcal
Protein - 2.5 gm
Fat - 0.1 gmNutritive Value of Whole Milk (100 ml - Cow Milk)
Calories - 72.8 Kcal
Protein - 3.2 gm
Fat - 4.48 gmWhile skimmed is not as nutritious as compared to whole milk, people often opt for skimmed milk as it is known to help with weight-loss. However, a few recent studies have claimed that drinking skimmed milk may, in fact, have the reverse effect and could actually lead to weight gain. This is because when you reduce the consumption of saturated fats in your every day diet, fat soluble vitamins might not be absorbed well in the body. This may result in the body turning to carbohydrates and sugars to fill in the gap, and the result may be a boost in the cravings you encounter. This is probably why health experts are divided on the subject. Dr. Sharma tells, "even if you are including skimmed milk in your daily diet, it is imperative that you complement it with other healthy dietary habits, so as to get the required healthy fats to avoid untimely sugar cravings. Also, for children below five, skimmed milk is not advisable as the caloric and fat content is lower which is needed to provide them energy for their healthy growth and development."(Also read: Should You Boil Milk Before Drinking It?)

The verdictSkimmed milk may be healthier considering it has low calories; however, it is imperative that your body gets healthy fats from other sources so as to maintain a balance. Both types of milk are good for you in different ways, just make sure the choice you make is coupled with a balanced diet to ensure a healthy lifestyle overall.