Move on from your regular coconut oil as there is a new do-it-all miracle elixir on the shelf. We all love the way how coconut oil improves our lives in countless ways, right from defrizzing your hair to moisturising all skin types. But, various beauty experts and bloggers are raving about another all-natural problem-solver, which is equally versatile- aloe vera. The clear gel extracted from the leaves of the aloe plant is known to do wonders to our skin and hair. While we have many aloe vera gel products available in the market that are labelled as "100 percent pure aloe," as per many studies, it was found that only half of these products contained pure aloe vera, and two had virtually no aloe at all. Now, the question is which brands to follow and which ones to avoid? Therefore, it is always better to make your own aloe vera gel at home. In fact, you may also try growing your own aloe plant at home. Follow these steps to make the gel at home.(Also Read -
5 Ways to Use Aloe Vera to Rejuvenate Your Skin and Hair)
Aloe vera is known to do wonders to our skin and hair
DIY Your Own Aloe Vera Gel At Home
Aloe vera leaves are long and slightly curved with ragged edges. The gel is the thick fleshy part that comes out of the skin of the leaf.
Things You Need:
Aloe vera leaf
A sharp knife
Clean air-tight container for storing
Blender
Clean bowl
How To Make Aloe Vera Gel:
Cut an aloe vera leaf into 8 long sections.
Cut off the ragged edge. Make sure you get just the edge as it is difficult to get the gel out of leaf.
Make a long, lengthwise incision in the middle of the leaf to peel off the skin.
Now, place your knife right under the rind and slide it along the length of the leaf to pull off the skin. Make sure to stay close to the skin to get as much gel as you can.
Repeat the same for the other half of the skin.
Now, with a help of a spoon, carefully scoop out the pulp and collect it in a bowl. Avoid scraping the yellowish part of the pulp, as it contains toxins.
Add a few drops of either grapefruit seed extract, vitamin C powder, vitamin E oil or some essential oil to help preserve the gel for longer period. Blend the mixture for 30 seconds in a high-speed blender.
Pour the gel into a clean storage container and refrigerate.
It will stay fresh in the refrigerator for about a week.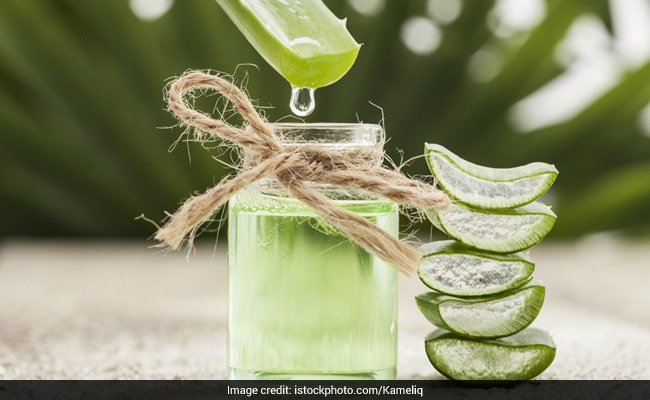 Aloe vera gel is the thick fleshy part that comes out of the skin of the leaf
This is one of the easiest and quickest ways of making aloe vera gel at home. If you have any other method to make aloe vera gel at home, then don't forget to share it with us in the comment section below.