Malt whisky sells for record-breaking $628,000
AFP | Updated: May 23, 2014 11:07 IST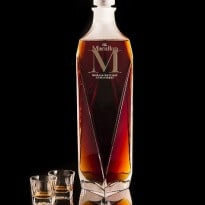 A bottle of malt whisky has gone under the hammer in Hong Kong for the record-breaking sum of HK$4.9 million ($628,205), an auction house says.

The Macallan 'M' Decanter 6-litre Imperiale attracted global interest at a Sotheby's auction, the firm said in a statement which identified the buyer only as an Asian private collector.

The former British colony has become a hub for auctions of collectibles and rare items ranging from diamonds to stamps, thanks to growing wealth in China and other parts of Asia.

An Asian buyer purchased a rare Leica camera, one of only four of its kind in the world, for $620,000 at a Hong Kong auction in November.

Sotheby's said the bottle sold on Saturday broke the record for any single malt whisky bottle sold at auction, surpassing the $460,000 paid in New York in 2010.

Photo source: Sotheby's/AFP