Michelin Stars Shining Bright in New York
AFP | Updated: October 03, 2013 11:58 IST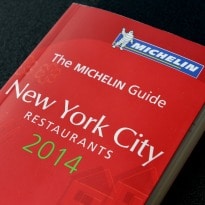 A Korean restaurant has for the first time won two Michelin stars in the 2014 New York edition of the prestigious gastronomy guide, which has awarded a record number of accolades.

Seven restaurants won the guide's highest three star-rating, unchanged from last year, earning the description of "exceptional cuisine, worth a special journey."

But in the two-star category of "excellent cuisine, worth a detour," the surprise breakthrough was Korean restaurant "Jungsik" run by chef Jung Sik Yim in Manhattan's trendy TriBeCa neighborhood.

"He's a brilliant young chef who worked in Korea, New York and also in Spain at a three-star Michelin (restaurant)," Michael Ellis, the international director of the annual guides issued by the French tire company.

"It's a very personal cuisine, which combines his Korean origins with high-level European techniques for a superb cuisine d'auteur," Ellis told AFP.

The number of two-star restaurants in New York fell from seven last year to five. They also include Atera -- run by young chef Mathew Lightner in TriBeCa; Soto, a Japanese restaurant in Greenwich Village; the Italian Marea near Central Park and Momofuku in East Village.

A total of 55 restaurants got one star, up from 52 last year and nine of them for the first time.

New York holds onto its undisputed title as most diverse culinary capital of the world with 61 different cuisines represented, including Persian, Tibetan, Sri Lankan, Peruvian, Polish, fusion and gastropub, not to mention the European and Japanese classics.
"New York remains one of the most dynamic, most varied, most exciting culinary markets in the world," Ellis said.

Three French restaurants retained the top rank: Daniel, with chef Daniel Boulud; Jean-Georges, with Jean-Georges Vongerichten, and Eric Ripert's Le Bernardin.

Masa Takayama's Masa, Thomas Keller's Per Se, Eleven Madison Park featuring Daniel Humm and Chef's Table at Brooklyn Fare made up the rest of the three-star list.

Gordon Ramsay's The London lost its two stars. So did Corton in TriBeCa, which lost its chef, and Gilt on Madison Avenue, which closed.

In all, 930 restaurants got a mention in the guide, up from 896 last year. Sixty-seven got stars compared to 66 in 2013.

Another 138 were highlighted as Bib Gourmand, which signifies good eating at good value. Menus in this category offer two dishes and a glass of wine for a maximum of $40, excluding tax and service.

The 2014 guide also includes dozens of restaurants were diners despairing of the city's high prices can eat for less than $25.

Michelin also covers San Francisco and Chicago in the United States. Inspectors work anonymously and have a reputation for independence.