The moment you meet chef Gaggan Anand, you realise he is a force to reckon with in the culinary world. A breezy and welcoming spot of calm amidst hubris of activity, Chef Anand is known to showcase Indian food in an all-new avatar at the global level. The Michelin-starred chef has come to Delhi for a 20-day special residency at the Hyatt Regency, where he will be curating an exclusive 25-course menu for just 35 guests every night. NDTV Food caught up with the chef during the planning stages of his immersive and theatrical dining experience starting February 18th till 14th March, 2023. During our candid conversation, it became evident that Gaggan Anand is not just a culinary whiz but also a proud patriot. Here are some of the best excerpts from the interview!
On Competition And Staying Ahead Of The Game
For the chef, earning laurels for adding his own unique twists and innovations was just something that happened along the way. It becomes clear through our conversation that his only competition is himself, and he wants to keep innovating only to improve upon his previous creations. Does chef Gaggan Anand feel pressured by the laurels and awards bestowed upon him? Clearly not. "I don't take cooking as pressure. It's not a cricket match. I take this as a challenge, where I want to see - how do I fare? We have these myths about India, and I want to prove these myths wrong to myself," he said.
So, how does he constantly keep experimenting and creating new dishes to stay ahead of the game? Chef says that it's all about looking back to his roots and going for local and seasonal over everything else. "Whenever I talk to restaurants and chefs, they say, 'We don't get international ingredients here.' That's the biggest mistake that we look at," says chef Anand. "Ingredients, techniques - we have so many techniques in India. Yet we fancy a tempura over a pakoda. We don't value a pakoda over a tempura. Everything imported sounds better in this country," he laments.


(Also Read: Copenhagen's Geranium Tops The List Of World's Best Restaurants 2022)
An Unabashed Patriot
Having lived so many years in Thailand, we got curious to know what brought chef to Delhi and if he is a true desi foodie at heart. "Delhi was where I started to become a professional chef. That's where I entered the industry. After 12 years I got the confidence to close my restaurant and bring my team," he revealed.


Gaggan Anand believes that Indian food has not got its due at the global level, and some of it is our own doing. "Our problem is that we don't market our food well. We have the culture of kebabs, and curries, and tikka and naan, but it's not the right culture that we should promote," said Anand. "I mean [we should promote] litti, or dal bati or some farsaan from Gujarat, and this is what I have done too."


"I want to give a very strong message to the world that India is ready for everything. When I look at the news in India, it's all about just bad news - portraying a very wrong image of our country. And I hate that. I want to give a better image," he confessed.


(Also Read: 7 Food Experiences in Bangkok No Food Lover Should Miss)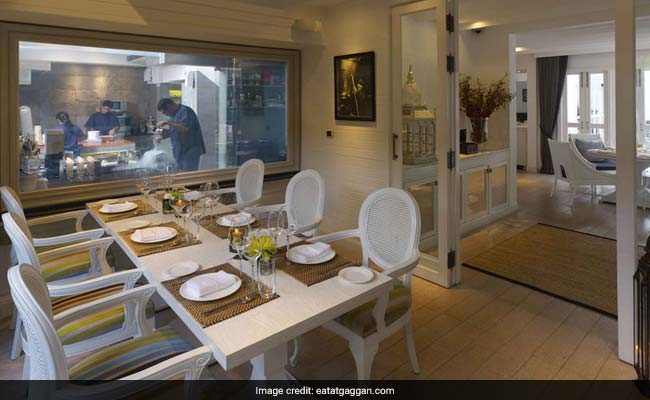 Kolkata Vs Delhi - Which City's Food Is Better As Per Chef?
On being asked where he likes to eat in the capital city, 'Chandni Chowk' was the immediate response. Chef Gaggan Anand clearly enjoyed the street food of Old Delhi and even confessed that it gave him a 'Delhi Belly' or stomach trouble, but he went ahead and ate generously thanks to the memories attached to the food of the city. "Whenever I go to Jama Masjid, CR Park, or Chandni Chowk area, I plug myself into those memories to get my thoughts clear. So, I keep asking myself - about taking these little, small memories that are so stuck in our DNA. To take these memories and make them taste them in a very progressive, art, minimalistic fashion is what I have evolved to be. From my first yogurt explosion to what I am today," he said.
Another city that chef Gaggan Anand's heart still beats strongly for is Kolkata. Being born and brought up there, he admits, "I still think that the puchka is way better than the pani puri. I think it's tastier. The street food of Calcutta, some of the dishes, I think are healthier and lighter. The mithai is also lighter - there's much less ghee and all that." After a beat, he himself evaluates the reason behind this unfair comparison, "Probably because I'm born and brought up there [in Kolkata], so we are always biased towards where we are born. If I was born in Indore, I would say Indore's street food is the best!"
Cooking Beyond Boundaries
When it comes to food, chef Gaggan Anand has a clear perspective - there cannot be any boundaries based on religion, politics, et cetera. Cooking and serving in itself is a very secular work of art. "Our infrastructure, logistic support is very poor. Every state has its own law, its own politics into food. I don't want religion to enter my food. I want my food to be secular. And food is secular. We don't ask a person who you are when we serve a food to the person. And that's why I want to take that as a challenge and learn myself," he said.
On Social Media And Food
Chef Gaggan Anand believes that social media has become the primary focus at restaurants; right from the way the dishes are made to how they are served. All sorts of theatrics and gimmicks are used to make the food more Instagram-mable. Anand feels this change is for the worse, not the better. "We are now in a very social media-savvy space in restaurants. Everybody wants to be an influencer. But what are you influencing? Are you eating or are you influencing? And that's not in India, that's all over the world. There are people with cameras who are not eating the dish." His advice? "Don't make food that is Instagrammable. Leave the food alone."


As for budding chefs, the chef has similar advice to offer. "Stop being on camera, stop being an influencer and just cook. I see so many chefs who want to be business owners, who have an IG account, but they don't cook! And I ask them, when did you last cook? And they say yesterday, but I don't think so! They lie," he said. And if there was one profession he would rather be in, if he wasn't a chef. "A drummer in a rock band," laughed Anand.


What: The Gaggan Residency


Where: The Hyatt Regency, New Delhi


When: February 18 - March 14, 2023, 7:30-9:30pm
About Aditi AhujaAditi loves talking to and meeting like-minded foodies (especially the kind who like veg momos). Plus points if you get her bad jokes and sitcom references, or if you recommend a new place to eat at.