Let's agree, birthdays are special come what may. Whether you like to celebrate your big day or regret the thought of growing a year older, birthdays give you a rare chance to make merry with loved ones. And, that's exactly what the wife of former US President Barack Obama did on her birthday. Yes, we are talking about former First Lady of the United States Michelle Obama, who turned 58 on January 17. And, her birthday party saw a delicious cake. She posted a video on Instagram where we can see her happily dancing seated right in front of the cake all ready to cut it.


It looked like a decadent cake with white frosting on top. The sweet delight was decorated with colourful sprinklers on the top as well as at the bottom surrounding the cake. Michelle Obama wrote a long caption and thanked her well-wishers and loved ones. She wrote, "Here's to a sweet 58th. Thank you so much for your outpouring of love." She continued, "Whether you texted, emailed, or posted on social media, every birthday message I received today meant a lot to me. I am so grateful to have so many people cheering me on. Looking forward to seeing what this upcoming year has in store."


(Also read: Michelle Obama Teams Up With 2 Puppets For An Exciting New Children's Food Series)
Take a look:
If Michelle Obama's drool-worthy birthday cake made your mouth water, you can also make some super yummy cakes at home to treat yourself. Before you think of anything else, we have a surprise for you. Here, we list about five interesting cake recipes that you can refer to.
Yes, you can easily make a soft cottony cake at home. You do not have to worry even if you haven't tried your hands at baking before. This recipe is for beginners and once prepared, it tastes amazing. Do try it out.
How about if we tell you that you can come up with a cake in just 3 minutes of your time? Yes, this is for those who get sweet cravings but don't feel motivated enough to follow the long process of baking elaborate cakes. It's a hassle-free chocolate cake-in-a-mug recipe that you'll enjoy.
You don't eat eggs? Don't worry. You won't need them to prepare this cake either. It's a healthy twist to your regular style of baking cakes. Make this eggless banana cake and decorate it with some chocolate chips if you like and walnuts.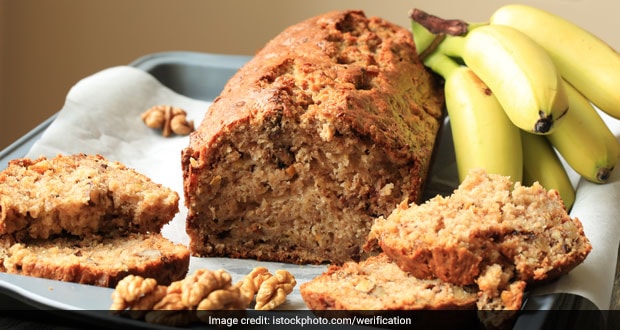 Banana cake is a yummy cake you can make in any season.
Sometimes, you feel like baking a cake for your loved ones on their birthday instead of relying on cakes from the market. You can prepare this moist and mushy chocolate cake at home to make your dear one feel special. Make it this year and impress them.
If you are bored with your regular cakes, then try this out at home. The red velvet mug cake will hardly take a few minutes to give you a beautiful result.


Try out some yummy cakes as they would surely make your day.