Image via: KFC official Facebook pageKFC seems to be taking their chicken fingers way too seriously as their recent product launch aims to bank their flavoursome goodness right onto your fingernails. Believe it or not, KFC Hong Kong is all set to receive its first batch of edible nail polish that can be eaten, or rather licked off the fingers, quite literally. According to a report filed by the New York Times, KFC Hong Kong is currently running a campaign advertising its edible nail polish available in two flavours - Original and Hot and Spicy.
If Anna Mugglestone, marketing and communications director, Ogilvy & Mather, Hong Kong is to be believed, the nail paint tastes exactly like chicken. Reportedly, the nail paint has been developed with the help of McCormick & Company which produces spices for KFC. The product is speculated to hit the stores by the end of this year. At present, KFC Hong Kong is in process of getting mass opinion on the most preferred nail paint flavour out of the two variants.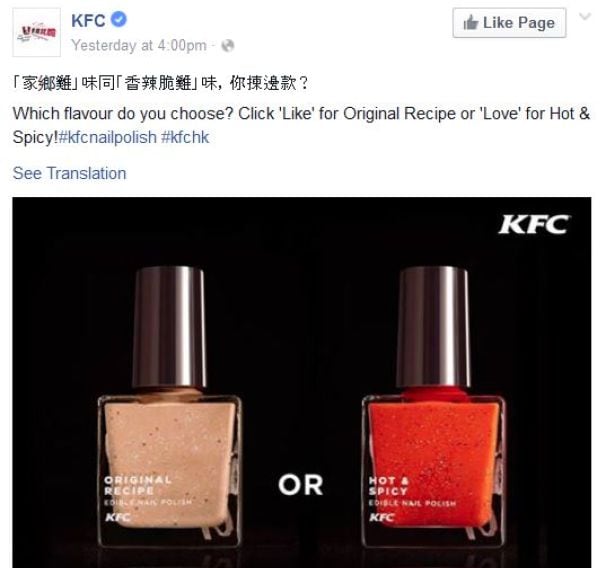 This, of course has raked a wave of reactions and comments on social media. While some wonder in amazement about the possibility of such a product, others can't seem to wait to try the product.
#kfcnailpolish when you're on a diet so you just chew on your nail.

— Cynthia Perez (@cynsperez) May 6, 2016
...I'm not saying #kfcnailpolish is bad, I'm just saying I don't know how I feel about it yet

— Rachael Wotherspoon (@rachaelmy) May 5, 2016
Apparently KFC is making a chicken-flavored nail polish. What a time to be alive. #kfcnailpolish

— Jessica Walworth (@JessicaWalworth) May 5, 2016

The company has also released a promotional music video which is going viral with 90,923 views within three days of its release.
It is finger lickin good!#ediblenailpolish#KFCnailpolish#chicken#foodie#bbloggerhttps://t.co/fobjZhKAKJ

— Minakshi Pharswal (@Crazynailzz) May 5, 2016
The new edible #kfcnailpolish really makes 'It's finger lickin' good" accessible anywhere anytime.
My favourite... https://t.co/mS5QUGphOA

— Elle Lee (@ElleIconLee) May 4, 2016
KFC had launched edible coffee cups in the UK last year. Closer back home, quite recently, selected stores in Bengaluru saw edible Tortilla rice bowls offered to customers. The promotional activity has now come to an end with a customer poll pending on whether the company should go ahead with a pan-India launch of the edible rice bowls.