Don't we all love those all-you-can-eat-buffets? Whether it's a team lunch with colleagues, a family feast or just an unplanned but long due get-together with your childhood buddies, one can never really get wrong with buffets. These are hassle-free, full of variety with a taste of everything without burning a hole in your pocket. Let's face it, value for money is paramount and buffets score an ace when it comes to it. Since finding the perfect buffet can be a task, we've rounded up the best in Bengaluru coupled with their prices and timings.

Note: Reservation highly recommended, since you're not the only one in Bengaluru trying to get hold of the best buffets in town.

1. Barbeque Nation
Their buffet has a great selection summing up to over 50 dishes, including unlimited grills, starters, main course and delectable desserts. With 7 outlets in the city, an ever changing menu and spectacular live counters, Barbeque Nation knows how to keep the experience exciting for the customer time and time again.

Where: Indiranagar, Koramangala, JP Nagar, Whitefield, Kalyan Nagar, Ulsoor, Electronic City
Timings: 12 PM to 3:30 PM, 6:30 PM to 11 PM
Price: Lunch (Monday-Saturday) Rs. 625 (Veg) and Rs. 749 (Non-Veg); Lunch (Sunday) Rs. 774 (Veg) and Rs. 899 (Non-Veg)



2. Punjab Grill
Serving rich North Indian food with a contemporary twist, the unlimited fare at Punjab Grill is nothing short of heavenly. The starters are served on the table itself, along with the scrumptious papad platter spruced up with various chutneys. Their popular Murgh Tikka is so succulent and juicy, you'll definitely be going back for seconds, and the Mutton Raunaqeen Seekhan is one of the best Seekh Kebabs you'll ever have in the town.

Where: Koramangala
Timings: 12 PM to 3:30 PM and 7 PM to 11:30 PM
Price: Lunch (Monday-Thursday) Rs. 595; and Dinner (Monday-Thursday) Rs. 1099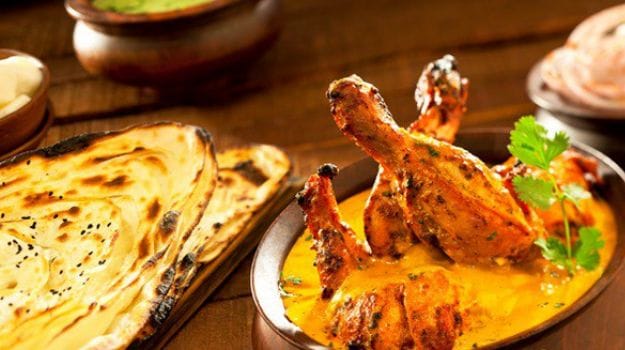 3. Windmills Craftworks
This luxury dining cum microbrewery hits all the right notes - good music, great food and handcrafted ales. Savour their leisurely Sunday Brunches highlighted by a live grill and an elaborate menu featuring a Double Cheeseburger, Beer Battered Fish & Chips, Mushroom Galouti Kebab and of course, all day happy hours.

Where: Whitefield
Timings: 12 PM to 11:30 PM
Price: Lunch (Monday-Friday) Rs. 700; Dinner (Monday-Friday) Rs. 900; Sunday Brunch Rs. 1250 + taxes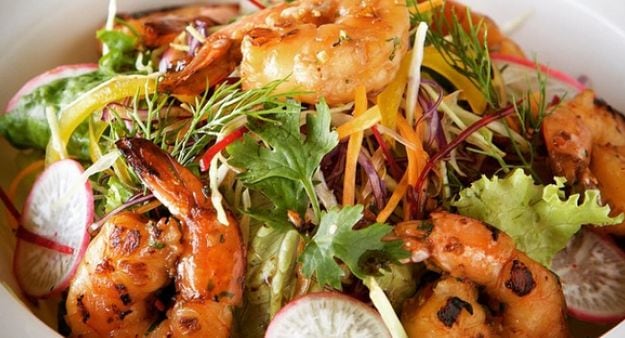 4. The Glass House - Deli Bistro Bar
Surrounded by its gorgeous glass facade, and beautiful interiors, this bistro and bar offers American, Continental, Japanese and European fare with a burst of flavours. Keep an eye out for their complimentary breads served with olive oil, roasted peanuts, rosemary, thyme and oregano. Pastry Chef Suresh is the man behind their delectable Creme Brulee and theatrical Sorbet. Reasons why you should visit the Glass House Bangalore? Their Goat Cheese Lollipop and Asian Pear Salad, of course. They also have a wine wall, showcasing their unmatched collection of wines from across the world.

Where: Lavelle Road
Timings: 12:30 PM to 4 PM
Price: Sunday Brunch Rs. 1650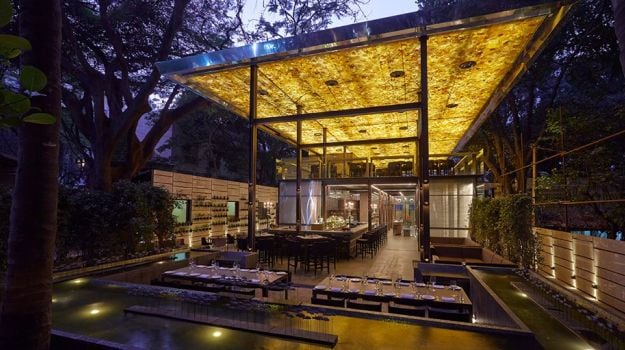 Image Credits: The Glass House/Facebook

5. The Biere Club
Situated right at the intersection of Lavelle Road and Vittal Mallya Road, it is a hub for foodies and famous for their premier beer and food pairing options. So what rules their menu? Chicken Massaman Curry, Pork Chops, Pizzas from their Wood Fired Oven and their Mango Beer.

Where: Lavelle Road
Timings: 12 PM to 11 PM
Price: Lunch (Monday-Friday) Rs. 899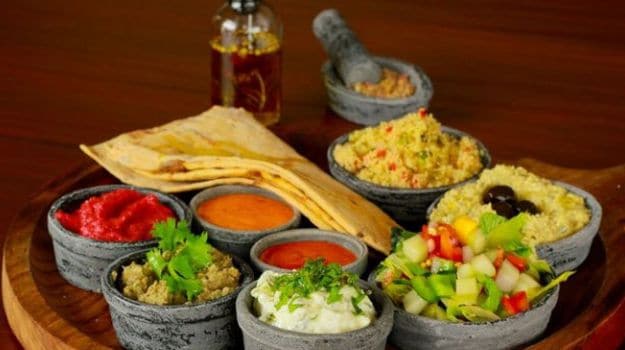 6. BonSouth
With its huge array of signature style Malayali dishes prepared by Chef Manu Nair, don't miss out on their oh-so-delicious Malabar Prawn Fry, Mangalore Coriander Fish, Mutton Cooked with Sour Leaf Masala and Raw Mango Steamed Fish.

Where: Koramangala
Timings: 12 Noon to 3:30 PM and 7 PM to 11 PM
Price: Lunch (Monday-Thursday) Rs. 580 (Veg) and Rs. 635 (Non-Veg); Lunch (Friday-Sunday) Rs. 605 (Veg) and Rs. 665 (Non-Veg); Dinner (Wednesday-Sunday) Rs. 715 (Veg) and Rs. 765 (Non-Veg)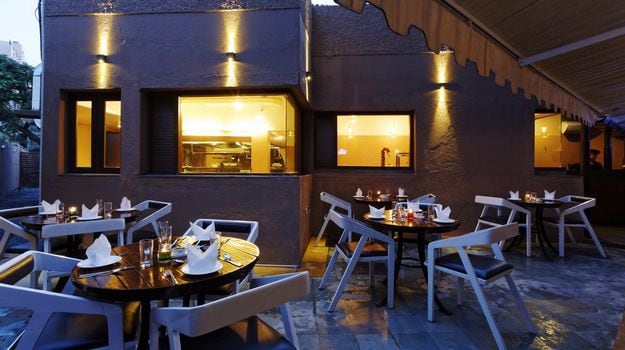 Image Credits: BonSouth/Facebook
7. Rajdhani Thali Restaurant
For foodies looking to binge on authentic pure vegetarian fare, Rajdhani is just the ticket for you. Serving a mix of Gujarati and Rajasthani food laden with ghee, there are 2-3 farsans, 8-10 main course items and 3 dessert on offer. Dig into their irresistible Daal Baati Churma, Marwadi Kadhi, Jalebi with Rabdi and lots more.

Where: Indiranagar, Whitefield, JP Nagar
Timings: 12 PM to 3:30 PM, 7:30 PM to 11 PM
Price: Rs. 350 Lunch and Rs. 425 Dinner (Monday-Friday); Rs. 425 Lunch and Dinner (Saturday-Sunday); Thali Tuesday @ Rs. 225 ONLY!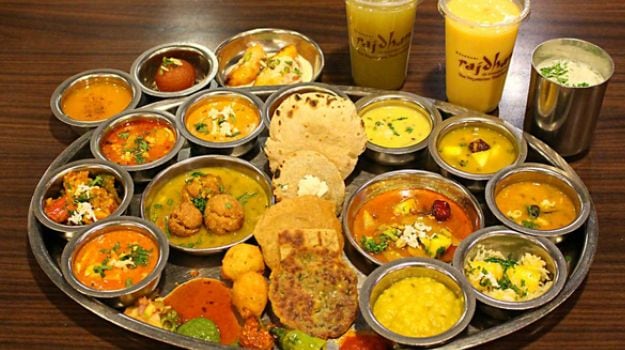 Image Credits: Rajdhani/Facebook (Originally clicked by Vidyalakshmi)

8. AB's- Absolute Barbecues
The tantalizing aromas of Absolute Barbecue Bangalore, India's first wish-grill restaurant featuring exotic meats like Rabbit, Quail, Squid, Octopus and plenty more. It's popular for their delicious Grilled Prawns and Chicken Tikka but their vegetarian repertoire pales in comparison. You must also try their Grilled Pineapple served with cinnamon and honey, as well as their customised Ice Creams.

Where: Marathahalli
Timings: 12 PM to 3 PM, 6:30 PM to 9:30 PM
Price: Lunch (Monday-Sunday) Rs. 625 (Veg) and Rs. 749 (Non-Veg); Dinner (Monday-Tuesday) Rs. 656 (Veg) and Rs. 781 (Non-Veg); Dinner (Wednesday-Sunday) Rs. 843 (Veg) and Rs. 968 (Non-Veg)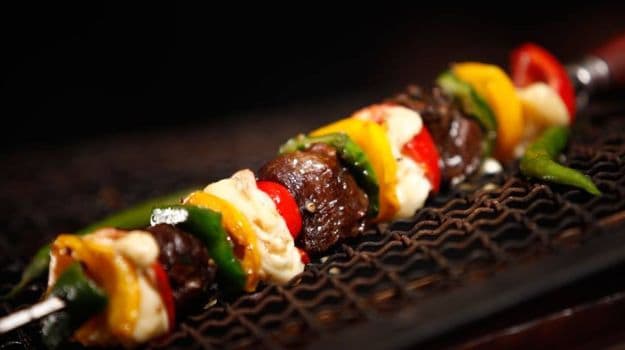 9. Banjara Melting Pot
Serving North Indian, Coastal and Pan-Asian Cuisine, everything at Banjara Melting Pot comes with the 'wow' factor. You have to try their mouth-watering Mangalore curry, Laal Maas and Hara Bhara Kebabs. The coarse ground Kori Sukka served with Neer Dosa also deserves special mention.

Where: Cunningham Road
Timings: 12 PM to 3:30 PM, 6:30 PM to 11:30 PM
Price: Rs. 465 Lunch (Monday-Friday)

10. Toscano
Bolstered by robust dishes and a fine selection of desserts, Toscana is one of the finest Italian restaurants in Bangalore with an ambience of an European Cafe. Their Duck Confit Salad, Poached Chicken Slices in Tuna-Mayo Sauce, Pesto Rubbed Carpaccio, Fillet Mignon De Carne and Mascarpone Tiramisu are the best in the city, dished with mind blowing presentation.

Where: UB City, Jayanagar, Whitefield, Malleshwaram
Timings: 12 PM to 3:30 PM
Price: Lunch (Sunday) Rs. 999 + Unlimited Beer & Sangria; Lunch (Thursday-Friday) Rs. 599 + taxes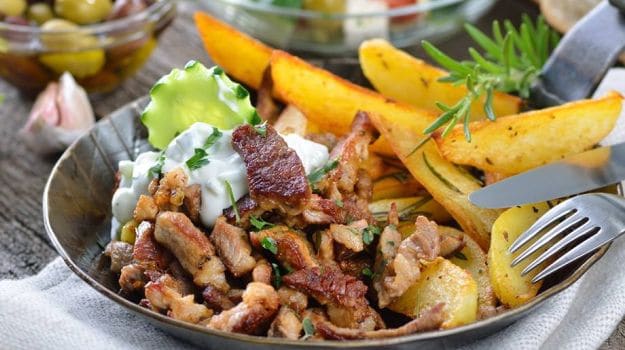 So where are you heading for a phenomenal meal?