As our daily lives become increasingly hectic, it's all too easy to overlook planning a nourishing lunch for ourselves and our loved ones. However, come midday, we don't want to be left picking at uninspired leftovers. That's why we've compiled a list of quick lunch ideas to save the day and make your lunch break the highlight of your day. These options are suitable for those seeking a hassle-free meal at home or an on-the-go option for the office. What's more, many of these ideas can be conveniently prepared in advance, just like the numerous suggestions we've shared before. So give your lunch routine a much-needed upgrade and try out one of these exciting options today!
Try These 6 Scrumptious Lunch Ideas for the Office:
1. Classic Overloaded Sub
Slice a fresh foot-long loaf of bread in half. Spread a layer of mayonnaise on the inside. If you're not a vegetarian, add chicken salami or pieces of meat before adding a slice of cheese. Add chopped lettuce, thinly sliced tomato, red onions, black olives, and your choice of sauces in addition to mustard.
Also Read: These Yummy Pakoras Are Made Without Besan, But Are Just As Tasty
2. Wrap It Up
Wraps are an easy and versatile option for lunch. Choose your favorite wrap, whether it's a tortilla, lettuce leaf, or even a nori sheet. Fill it with your choice of protein like grilled chicken, tofu, or hummus, along with veggies like peppers, avocado, and sprouts.
3. Grain Bowl
Start with a base of cooked grains like quinoa or brown rice, then add your favorite veggies, protein, and dressing. Try a Southwest-inspired bowl with black beans, corn, avocado, and salsa, or a Mediterranean-inspired bowl with grilled chicken, olives, and feta cheese.


Also Read: Nostalgia Alert! 5 Popular Tiffin Meals That Every 90s' Kid Will Relate To
4. Salad Bowl
A hearty salad bowl is a satisfying lunch option. Start with a base of greens, then add your favorite toppings like roasted veggies, grilled chicken or tofu, nuts, and seeds. Drizzle with your favorite dressing and enjoy!
5. Bento Box
A bento box is a fun way to pack a variety of foods for lunch. Choose a compartmentalized container and fill each section with a different food item. Try a mix of veggies, fruit, protein like hard-boiled eggs or sliced chicken, and a small serving of nuts or seeds for crunch.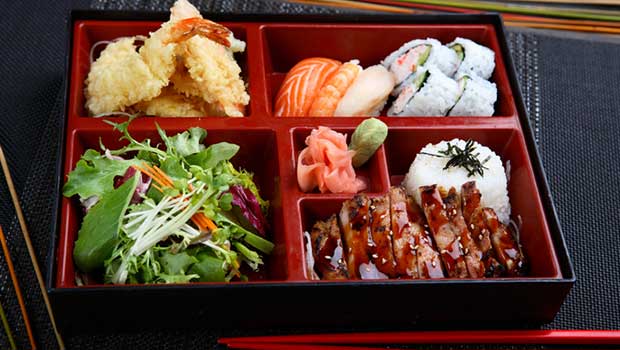 6. Leftovers
Don't overlook your dinner leftovers for lunch! Roasted vegetables, grilled meats, and cooked grains like quinoa or brown rice can be easily repurposed into a delicious lunch. Just pack them up in a container and reheat in the microwave or oven when you're ready to eat.


We hope these lunch ideas add more fun and wholesomeness to your office meals!