Happy Republic Day 2017
! So how are you celebrating? Growing up, we would always look forward to the flag hosting ceremony in our schools or neighbourhoods. It evoked a great sense of pride to watch the Indian flag swirling up in the air while the National Anthem was sang by one and all. Those staying at home would switch on the television and tune in to the national broadcast of the grand parade at New Delhi's Rajpath. It's spectacular every year. If you haven't had the chance to do either, don't be disheartened. You can celebrate at home with family and friends by making delicious tri coloured recipes to stay true to the theme.
So how do you go about making these recipes? While you can use food colours to make the vibrant dishes, those picky about eating natural could make use of the following ingredients: orange, carrots, saffron, mustard - for saffron; radish, coconut, white rice, milk, curd, cream, cheese - for white; green leafy vegetables like spinach, mint, coriander and other herbs - for green. You can go all out to create tri coloured rice, puddings, salads, pastries, snacks - there's just no end to the possibilities.
What to get started? Here are a few recipes for some inspiration:
1. Tri Coloured Salad with Tropical Prawn, Carrots and Beans Salad
Recipe by Renaissance Lucknow Hotel
For the Vinaigrette
1 tablespoon rice wine vinegar
1 teaspoon honey Dijon mustard
1/8 teaspoon salt
1/8 teaspoon black pepper
3 tablespoons extra-virgin olive oil
2 tablespoons snipped fresh chives
For the Salad
1 pound green beans, trimmed
2 tablespoons extra-virgin olive oil
2 cloves garlic, finely chopped
1 1/2 pounds large shrimp, shelled and deveined
1/4 teaspoon salt
1/4 teaspoon black pepper
Snipped chives for garnish (optional)
Method:
In a small bowl, whisk vinegar, mustard, salt and pepper. Gradually drizzle in the olive oil, whisking continuously until dressing is emulsified. Add chives; set aside. Green beans and shrimp:
Bring a large pot of lightly salted water to a boil. Add beans and simmer for 5 minutes or until crisp-tender. Drain and place in a large bowl. Toss with dressing; set aside.
Heat the 2 tablespoons oil in a large skillet over medium-high heat. Add garlic and shrimp.
Season with salt and pepper and cook for about 2 minutes per side or until cooked through.
To serve, toss with the beans. Place on a serving platter. Scatter shrimp over the top. Garnish with snipped chives, if desired.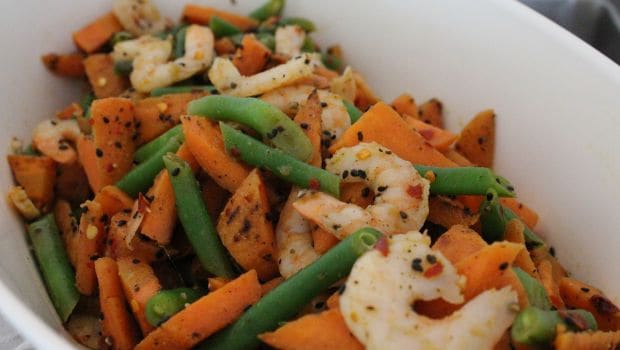 2. Tiranga Curry Rice
Recipe by Chef Gurmeet Singh, Pind Balluchi
Ingredients:
Paneer (150 grams)
Tomatoes (3 medium)
Cashew nuts (1/4 cup)
Melon seeds (2 tablespoons)
Poppy seeds (1 teaspoon)
Ginger,chopped (1 teaspoon)
Green cardamoms (2)
Red chilli powder (1 teaspoon)
Salt to taste
Oil 1 tablespoon + for deep-frying
Yogurt (1/4 cup)
Green cardamom powder (1/4 teaspoon)
Refined flour (2 teaspoons)
Fresh cream (2 tablespoons)
Garam masala powder (1/4 teaspoon)
Method:
Put chopped tomatoes, cashew nuts, melon seeds, poppy seeds, ginger, green cardamoms, red chilli powder, yogurt, salt and one tablespoon oil in a pressure cooker and mix well.
Add one cup water and close the cooker with the lid. Cook under pressure till four whistles.
Put oil in a pan and add green cardamom powder, salt, flour and mix well. Crumble paneer and mix well.
Take circular portions of the mixture (koftas) and deep fry it till golden.
Open the lid of the cooker and blend the mixture with a hand blender.
Put the mixture and pour into another non-stick pan and heat. Add a little cream and garam masala powder and mix.
Arrange the deep friend koftas in a serving bowl, pour the gravy over, drizzle a little cream and serve immediately.
Serve it hot with steamed rice.
3. Tri-Coloured Rice
Recipe by Chef Bikram
Ingredients:
Rice (2 Cups)
Oil (1 tablespoon)
Lemon Juice (1 tablespoon)
Water (2 Cups)
Salt (to taste)
Carrots Steamed/boiled and puréed (2 Carrots)
Coriander leaves (1 bunch)
Green Chillies (3)
Ginger (a small piece)
Curry leaves (2 strands)
Mint leaves few
Garam masala (one tablespoon)
Turmeric powder (1/2 tablespoon)
Oil (2 tablespoon)
Method:
Heat up a thick bottom vessel, pour water, add salt and let it boil.
Add rice and stir it well.
Add oil and lemon juice, stir again and cover it with a lid and let it cook till done. Take off the stove and set aside to cool.
Fluff up the rice gently so that the grains do not stick to each other. Divide into three equal portions and set aside.
Steam cook or boil the carrots and let it cool. Puree them and set aside.
Grind coriander leaves, ginger, mint leaves and curry leaves, set aside
In a non-stick pan, pour one tablespoon oil, add the carrot puree and saute for a minute. Add turmeric powder, garam masala, half tablespoon salt and saute. Add one portion of rice and saute well to mix. Check for the salt and adjust, set aside.
In another pan, pour oil, add the coriander-mint paste, half tablespoon salt and saute well.
Add next portion of rice and saute well. Check for the salt and adjust. Set aside.
Layer three different rice, orange first, then white and then green so that when you take it upside down for serving the orange colour comes first.
Arrange them as single individual servings or as a single dish to let everyone help themselves.

4. Tri-Colour Makhani
Recipe by Spice 52, Mumbai
Ingredients:
-Palak (spinach) (100 gram)
-Oil (2tablespoon)
-Chopped garlic (1 tablespoon)
-Chopped green chilly (1/2 tablespoon)
-Green vegetables (bean, carrot,cottage cheese) (150 gram)
-Butter (50 gram)
-Mawa 50 (gram)
Method:
In fry pan put two tablespoon oil, garlic and green chilly. Put spinach puree. Saute, put cream, butter and mawa.
Put green vegetables.
Use garam masala, 1 tbsp elaichi (cardamom) powder, red chilli powder, turmeric powder, kasuri methi powder (dried, fenugreek leaves powder).
Chopped coriander and salt! As per taste.
For red gravy:
Onion (150 gram)
Tomato (150 gram)
Cashewnuts paste (150 gram)
Garlic
Green chilly
Kolhapuri chilly
Grated coconut (1 cup)
Method:
Cut onion fine and saute in oil and water till Brown. put it in mixer and make paste.
Boil cashew nut and make paste in mixer grinder.
Pour 2 tablespoon oil, garlic and chilli in fry pan.
Pour onion paste, cashew nut paste and tomato puree 75 gram.
Put Kolhapuri chilli, grated coconut, chilli powder, elaichi (cardamom) powder, kasuri methi (dried, fenugreek leaves) (1 tablespoon).
Put butter, mawa, cream. (1/4 cup each).

5. Tiranga SandwichRecipe by Dr Oetkar
Ingredients:
45g (3 tbsp) Tandoori Mayonnaise
1 medium Carrot, peeled and grated
1 medium Green Capsicum, deseeded and chopped
45g (3 tbsp) Dr. Oetker Funfoods Mint Mayonnaise
1 medium Cucumber, peeled and chopped
1 medium Onion, peeled and chopped
1 medium Tomato, chopped
45g (3 tbsp) Dr. Oetker Funfoods Veg Mayonnaise
6 White Bread Slices
Method:
1. In a bowl, add mint Mayonnaise, cucumber, capsicum and onion. Spread the mixture on a bread slice and cover with second slice
2. Spread 1 tbsp. Veg. Mayonnaise on top of second slice and cover with another layer of bread
3. In another bowl, add Tandoori Mayonnaise, cucumber, onion, tomato and spread the mixture on top of third bread slice. Place one more slice of bread on top.
4. Cut the sides and sandwich into 3 fingers. Your Tiranga Sandwich is ready. Serve cold.