Quite a few children share a Calvinesque (From Calvin and Hobbes) relationship with spinach. It's forced down their throats when they're growing up and the negative association almost never goes away. I was one of those kids who bought the Popeye theory that
spinach
will make you strong; my mother and grandmother didn't just spin tales around spinach but possessed a repertoire
of recipes
that sustained my interest.You only have to visit one of the vegetable markets in Chennai or Bengaluru to discover the wide variety of spinach on offer. It often changes with the season and some of the seasoned vendors can share the
health benefits
of these greens. From crunchy
vadas
made with
soppu
(in Kannada),
cheera
(Malayalam) or
keerai
(in Tamil), to
dals, sambhars
and meal accompaniments crafted with
koora
(spinach in Telugu), spinach figures quite heavily in home-style menus across
South India
.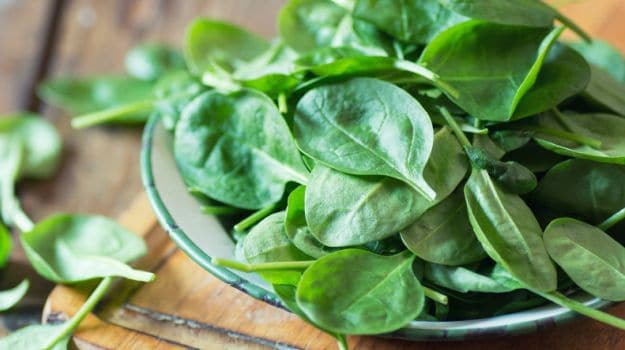 Spinach and its Varietals
Here's a quick guide to some of the spinach varietals you are likely to find in Chennai or Bengaluru:1. Mulai Keerai (Amarantus Blitum): It is probably the most common variety in
Tamil Nadu
and high in vitamin, iron and calcium. There's also a red version of this that has recently been christened 'Disco Keerai' (!). The stem of this spinach (
keerai thandu
or
dantu
in Kannada) is used in
sambhar
or More Kuzhambu (a yoghurt/
buttermilk
-based curry, similar to the Gujarati Kadi).2. Pasala Keerai or Basale Soppu: also called Delhi Spinach, this is the conventional
palak
used in dishes like
Palak Paneer
.3. Manthakali keerai or Kaake Soppu: it's also called Black Nightshade and is packed with goodness – high quantities of riboflavin and niacin (usually a home remedy for mouth ulcers).4. Murungai Keerai or Nugge Yele: Moringa (adapted from the Tamil and Malayalam word for drumstick) has emerged as one of the 2010 global superfoods. Drumstick leaves (
saijan patta
in Hindi) are considered one of the most important varieties of
Spinach
for their proven health benefits.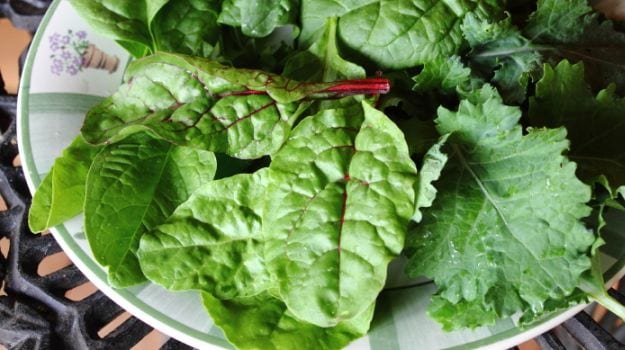 5. Sorrel Leaves or Gongura (Pundi in Kannada): also known as
pulicha keerai
for its inherent sour taste, this is one of the most popular spinach varieties used in
Andhra
and Telengana.6. Ponnangani Keerai or Honagonne: this spinach is believed to add a glow to your skin; it's also a 'go-to' spinach during hot summers with its inherent qualities to 'cool' your body.7. Agathi Keerai or Agase: Siddha texts refer to the strong anti-bacterial properties of these humming bird tree leaves.8. Venthiya Keerai or Menthina Soppu:
Fenugreek
leaves are best known for their digestive properties and also rich in phosphorus and calcium.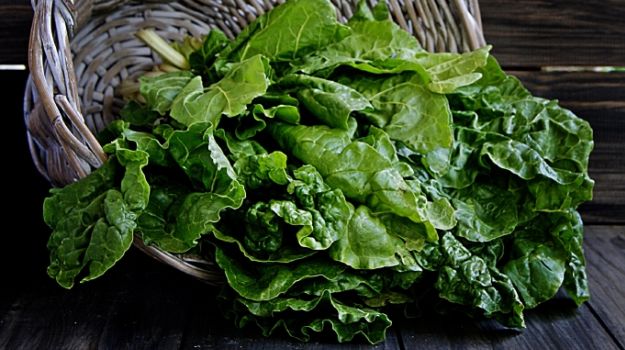 South Indian Spinach Recipes to Try at Home
You can try one of these nutritious South Indian spinach recipes that are simple to make:
1. Mulakeerai Kodamilagai Kadayal
This recipe by Junior Sous Chef Shankar Padmanabhan from Southern Spice, at the Taj Coromandel, Chennai, adds visual appeal and a
crunchy texture
, courtesy the coloured capsicum. It is a lentil curry made with amaranth leaves, similar to Dal Palak of North India.
Ingredients:
2 bunches mulakeerai (amaranth leaves)
100 gm coloured bell peppers
150 gm split moong dal
10 gm turmeric powder
20 gm ghee
5 gm mustard seeds
5 gm split urad dal
5 gm cumin seeds
3 gm button chillies
3 gm asafoetida
A few curry leaves
Salt to taste
Method:
1. Boil the moong dal until it's cooked.
2. Wash and blanch the Amaranth leaves and make a paste.
3. Clean and dice the bell peppers.
4. Heat ghee in a pan and temper mustard seeds, chillies, urad dal, cumin seeds, curry leaves and asafoetida.
5. Add the boiled lentil and paste of amaranth leaves, and mix well.
6. Serve with steamed rice.
2. Koora Pappu
I first tried this dish at Andhra restaurants like Nagarjuna in Bengaluru and Amaravathi in Chennai. However, the best version of this simple spinach
dal
is a family recipe shared by my friend Sunita Suresh.
Ingredients:
A bunch of spinach leaves (palak or amaranth)
2 cups toor dal
1 large onion
4 green chillies, sliced
100 gm ripe tomatoes
2 coloured bell peppers
8 garlic pods
1 tsp turmeric
1 tsp red chilli powder
1-inch tamarind piece
A pinch of asafoteida
Salt to taste
Method:
1. Pressure cook all the above ingredients for about 10-12 minutes.
2. Remove excess water (if required) and mash it.
3. Heat a teaspoon of ghee and fry a few additional garlic slivers with another pinch of asafoetida. Add the dal and spinach mixture and serve after stirring in the pan.
4. Tastes best with steamed rice and some ghee on top.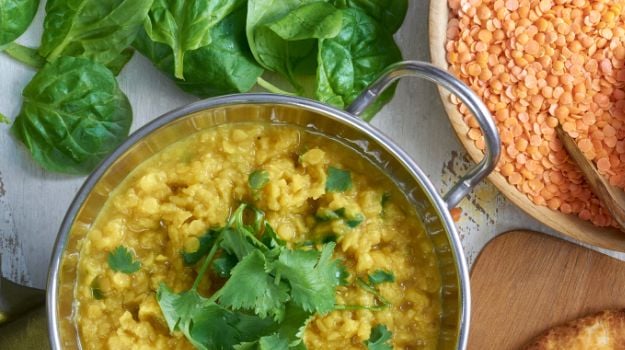 3. Gongura Pickle
Large jars of this spinach preserve used to make their way from my father's ancestral village – Tadimalla in the West Godavari district of Andhra Pradesh, every summer. This tastes equally delicious with steaming hot rice or as an accompaniment.
Ingredients:
A large bunch gongura (sorrel leaves)
8 dried red chillies
1 tsp jeera
2 tsp coriander seeds (dhaniya)
1/2 tsp fenugreek
1/2 tsp urad dal
100 ml gingelly oil
5 garlic pods
Salt to taste (use judiciously; this spinach is already sour)
A pinch asafoteida
Method:
1. Dry fry the red chillies, jeera, coriander seeds, fenugreek, urad dal on a medium flame and keep aside.
2. Clean and chop the spinach into small pieces.
3. Fry the spinach in two tablespoons of oil until it is partially cooked.
4. Grind the roasted spices and add to the spinach. Add salt, a pinch of asafoetida and more oil. Cook on a low flame adding the oil in frequent intervals and keep stirring till the spinach is fully cooked and the oil separates from the spinach.
4. Drumstick leaf soup
More and more homes in Tamil Nadu are discovering this simple recipe packed with all the magic of
moringa
.
Ingredients:
1 bunch drumstick leaves
1/2 tsp crushed cumin seeds
5 garlic pods, crushed
1 green chilli, slit
1 tsp crushed pepper
1 tomato, ground
2 tsp tur dal
3 cups of water
1 drumstick chopped (optional)
Method:
1. Pressure cook these ingredients for 10 minutes.
2. Stir the mixture and then strain it.
3. Add salt (to taste) and additional pepper (if required) before serving.
About the Author:
Ashwin Rajagopalan is a cross cultural training expert and lifestyle writer. When he's not writing about food, he thinks about gadgets, trends and travel experiences. He enjoys communicating across cultures and borders in his weekday work avatar as a content and editorial consultant for a global major and one of India's only cross cultural trainers.
Disclaimer:
The opinions expressed within this article are the personal opinions of the author. NDTV is not responsible for the accuracy, completeness, suitability, or validity of any information on this article. All information is provided on an as-is basis. The information, facts or opinions appearing in the article do not reflect the views of NDTV and NDTV does not assume any responsibility or liability for the same.
About Ashwin RajagopalanI am the proverbial slashie - a content architect, writer, speaker and cultural intelligence coach. School lunch boxes are usually the beginning of our culinary discoveries.That curiosity hasn't waned. It's only got stronger as I've explored culinary cultures, street food and fine dining restaurants across the world. I've discovered cultures and destinations through culinary motifs. I am equally passionate about writing on consumer tech and travel.