Singapore Takeout: Delhi Edition
Pragati Shukla , Sub-Editor, NDTV | Updated: August 06, 2012 12:50 IST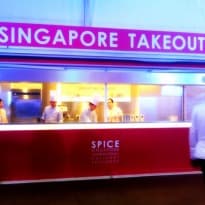 Ask any traveler about the fastest way to spark a connection on a foreign land and 'food' will be the quick retort every time, followed by a warm mellow smile. So it's no wonder when James Beard once said "food is our common ground, a universal experience." When you indulge in something as versatile and dynamic as the topic of food and take that around the world, you know the possibilities are endless, all deliciously so.

At Singapore Takeout, though, you don't go travel to the food - the food travels to you. Part of the Singapore International Culinary Exchange that champions Singaporean culinary talent globally, Singapore Takeout is a mobile kitchen that takes the taste of Singapore around the world. Its nine city journey includes London, Paris, New York, Hong Kong, Dubai, Sydney, Moscow, Shanghai and New Delhi. At each city, Singapore-based chefs work together with local chefs to present dishes inspired by Singapore's flavours and ingredients.

At Delhi, internationally celebrated Singaporean chef, Benjamin Seck, dished up a feast with Rajkamal Chopra and Manisha Bhasin from Welcomhotel Sheraton and ITC Maurya. The result was a feast made in fusion heaven.

Chef Benjamin Seck presented his take on Popiah Goreng, which are fried spring rolls filled with cabbage and carrot. Additionally, he served Roti Jalal (Lacy Pancakes) with Nyonya Prawn Curry. For the sweet dish, he served Hun Kwee Jagong, a coconut jelly, filled with corn and wrapped in fragrant banana leaves.
Chef Rajkamal Chopra reinterpreted 'Laksa', the popular Singapore street food dish by incorporating it into a pulao with French beans, Laksa paste and Indian spices.

Chef Manisha Bhasin served Scampi and Lemongrass Ceviche in a traditional methi dhania papdi shell, drizzled with galangal and tamarind sauce. She also presented Chicken Tikka marinated with Laksa paste to give it a Singaporean twist.

"Singapore Takeout is a great platform for culinary exchange that brings together chefs from Singapore and other countries, in this case - India, to showcase and share their experiences with one another. Singaporean cuisine is a blend of Malay, Chinese, European and Indian cuisine, but at the same time has a clear line of flavours. At the Singapore Takeout event in Delhi, I saw the two distinctive cuisines blended together, the outcome of which was a culinary delight," shared Chef Kunal Kapur, Executive Sous Chef, The Leela Kempinski Gurgaon and Masterchef India judge.

Chef Benjamin adds, "I have always been proud of my Peranakan heritage and of the diverse cultures in Singapore. Singapore Takeout is the perfect opportunity for me to share my Peranakan dishes with India and to also show how Singapore-inspired flavours and local ingredients can be incorporated into various cuisines. Teaming up with Chef Manisha Bhasin and Chef Rajkamal Chopra from ITC Hotels has been an enriching experience and it was good to see a positive appreciation of the food served amongst the discerning crowd,"

By taking Singapore to the world, the Takeout aims to showcase the island country as a must-visit food destination and to make Singapore food an integral part of the global food scene. It's telling the world about fusion of flavours and how authentic Singaporean flavours can easily be incorporated into daily meals, something which is easy to do and the outcome is downright delicious.

Note: You can try these Singapore-inspired dishes by visiting these hotels across the country: ITC, Taj properties, The Park, Leela and Gateway properties, down South.