Smoking cessation products pose no serious heart risks
IANS , New Delhi | Updated: May 23, 2014 11:35 IST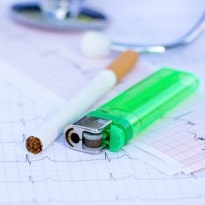 Nicotine replacement gums or popular drugs prescribed to help people quit smoking may not pose serious heart risks in users, according to a study.

In recent years, there have been concerns that some smoking cessation products may have serious cardiovascular risks.

But in the largest analysis of side effects of three major smoking cessation products, serious heart events didn't increase with nicotine replacement gums and patches, the nicotine addiction treatment Chantix, and the anti-depressant Wellbutrin, reported Xinhua citing a study published Monday in the American Heart Association journal.

The study found that overall, smoking cessation is associated with improved cardiovascular health, increased life expectancy, improved quality of life and reduced healthcare costs for smoking-associated conditions.
"Undoubtedly, the benefits of quitting smoking outweigh any potential risks from smoking cessation therapies," said Edward Mills, study co-author and associate professor of medicine at Stanford University and Canada Research Chair at the University of Ottawa.