The Grand Onam Feast Losing its Charm?
IANS , Thiruvananthapuram | Updated: September 16, 2013 14:44 IST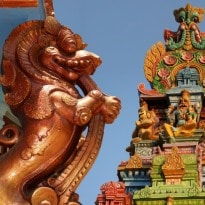 Kerala celebrates Onam with the traditional 'Onam Sadhya', a rich and delicious platter of 26 food items. Today is also Thiru Onam, the most important day in the Onam week.

The practise of making the traditional Onam Sadhya has virtually vanished in many homes. Many preferred to enjoy the holiday visiting places.

Hotels and catering establishments had a roaring business, and said they were finding it difficult to meet orders for Onam Sadhya.

"By Saturday itself we stopped taking orders because we knew we would be unable to meet the demand," said Vinod Kumar, who runs a catering business here.

With prices of vegetables and other essentials rising like never before, hotels and caterers are charging a minimum of Rs.220 for an Onam Sadhya -- packed in good quality plastic containers.

Onam, primarily a Hindu festival, is celebrated across communities in Kerala. The harvest festival marks the homecoming of the mythical king Mahabali.

Unfortunately, rains have dented the festivities this time.

Kerala government employees have an extra reason to celebrate as their salary for September was paid in advance.

Across the state, people have been shopping -- like every year.

"Sales are not bad. One reason why people thought Onam festivities would be affected was the price rise because of the weakening rupee," said Kumar Nath, who owns a home appliances shop in Kochi city.

"With Kerala's economy propped up by the diaspora remittances, the price rise to a certain extent has not been felt because practically every Kerala household has at least one person working abroad," he said.
Huge crowds were seen in front of the state-owned Beverages Corp, the sole wholesaler of liquor in Kerala.

"All our shops have stocked up more than enough to meet the requirements. If indications are right, we should be clocking record sales of more than Rs.100 crore during Onam," said an official of the excise department.

Chief Minister Oommen Chandy, who left for his constituency Kottayam by train, said it was just another day for him and he was not in the habit of celebrating events.

"For the past two days he had Onam Sadhya with mentally-challenged children at his official residence," a close aide told IANS.

Opposition leader V.S. Achuthanandan reached his hometown Alappuzha Sunday evening to celebrate Onam with his family.