Onam is one of Kerala's most awaited annual festivals and is celebrated with much grandeur. The 10-day long fiesta is celebrated during the harvest period of late August and early September to celebrate the homecoming of Kerala's mythical king Mahabali. This year, Onam is marked from August 22nd to September 2. The grand feast of Onasadya is one of the star highlights of the festival where the humble banana leaf is seen studded with close to 26 different vegetarian preparations. "The Sadhya is held in the honour of the benevolent King Mahabali. Tradition demands that you do not cut corners in the richness, scale and opulence of the Sadhya meal," shared Thomas Fenn, Co-owner, Mahabelly, Saket.
A typical Sadhya meal is meticulously prepared and fastidiously plated - it is a magnificent coming together of different flavours - from sweet, salty to tangy, sour and spicy. "The Sadhya traditionally comprises sweet/savoury dishes like the Inji Curry (Ginger Curry), Mango Pulissery, Pacchadis and the like. The idea is to have all the standard flavour profiles in a single meal with rice as the neutral base," noted Thomas.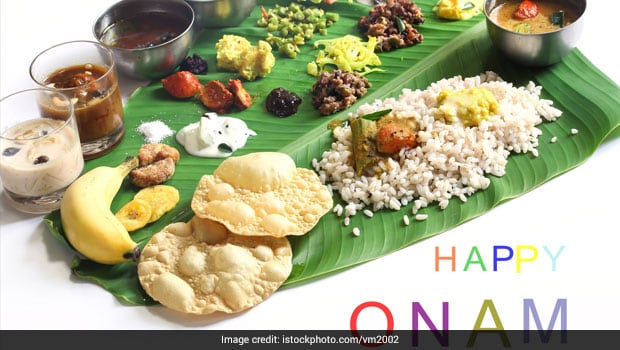 Onasadya or Onam Sadya Spread
As they say, no meal can ever be complete without something sweet, the same is held true for Onasadya as well. The mind-boggling variety of payasams that are usually offered at the end of a Sadhya meal manages to whet your appetite further. Various ingredients are employed in the process of cooking a decadent batch of payasam - from jackfruit, rice, green moong to raw bananas and tapioca among others. Though there is no special significance attached to the inclusion of payasam in Onasadhya, its presence is absolutely non-negotiable.
Onam is a festival that is eagerly awaited by most of us, as this is the time to relish the coming together of myriad flavours in a banana leaf meal. What's even more exciting is working up some extra appetite to polish off a cupful of Ada Pradhaman that is served towards the end of Onasadya. The rice flour-based payasam spiked with the richness of ghee and jaggery is so smooth and ambrosial on the palate that you are bound to finding yourself asking for a second helping (maybe third!).
Here's how to cook it to perfection in the comfort of your home:
Ada Pradhaman Payasam
Recipe from Mahabelly, Saket
Serves 4
For Ada
2 large banana leaves
1 tablespoon ghee, melted
1 cup rice flour, sifted
Water
Method
1. Prepare a steamer with water in its base.
2. Cut the banana leaves into 5 inch squares; wilt them over an open flame so that they're easy to roll and grease with the ghee.
3. In a small bowl, mix the rice flour with enough water to make a thick, pancake batter like paste.
4. Spread batter enough for a thin layer on the leaf. Roll up each leaf and place in the steamer.
5. Cook for 8-10 mins then open the leaves carefully and cut the steamed dough in 1/2 inch squares.
For the Pradhaman
1 tablespoon ghee
1 cup Ada (see above)
2 cups thin coconut milk
1/4 cup jaggery
1/2 teaspoon cardamom powder
1/4 teaspoon ground ginger
1/2 cup thick coconut milk
Method
1. In a deep skillet, add the thin coconut milk, jaggery, cardamom, ghee, ginger and simmer for 6-8 mins over low heat.
2. Add prepared Ada to the simmering mixture.
3. Add the thick coconut milk and simmer till the payasam is thick and creamy.
Variation: Add cooked, softened jackfruit to the payasam in the end for added texture.
Happy Onam 2020!