Hindu women, especially in the western part of the country will be celebrating Vat Purnima today and will observe the ritualistic fast to pray for their husband's long life and well being. The Vat Savitri Vrat, or Vat Purnima Vrat is observed during the month of Jyeshtha Purnima. The vrat is named after the Hindu Goddess Savitri who reclaimed her husband's life from the God of death, Yamaraj with her devotion and perseverance. This year, the Vat Purnima Vrat Pooja date falls on June 8, 2017, Thursday. According to the Hindu calendar, this auspicious festival is celebrated on Purnima or a full moon night in the Jyestha month by Hindu married women, particularly in the states of
Gujarat
,
Maharashtra
and some parts of
Karnataka
. On this pious occasion, women tie a ceremonial sacred thread around a banyan tree, and listen to Savitri-Satyavan Katha(tale) while observing a day-long fast.
The word 'Vat' refers to the Banyan tree. The tree holds great significance in the rituals of the festival because it is believed that Goddess Savitri got her husband's life back under a Banyan tree. Women from eastern parts of the country like Orrisa, Bihar and Nepal celebrate the Vat Savitri Vrat on Amavasya according to the Purnimanta calendar while married women from the western states of Maharashtra and Gujarat and South India observe the fast 15 days later on Purnima.
The Legend of Savitri and Satyavan
According to Hindu mythology, King Ashtapati had a beautiful daughter named Savitri. He adored her and fulfilled all her wishes. He even allowed her to choose her husband. One day, Savitri met a young man Satyavan who was carrying his blind parents on his shoulders. Impressed by Satyavan's devotion towards his parents, Savitri decided to marry him. Satyavan's doomed fortune made Savitri's father unsure of the match. Satyavan was the son of a king who was banished from his kingdom and was also destined to die in a year. King Ashtapati refused to give his consent but Savitri was adamant and convinced her father who finally relented to her daughter's demand and she got married to Satyavan.
They led a blissful married life and soon a year passed, and the day of Satyavan's death inched closer. Sage Narad predicted that Satyavan would die after three days. Therefore, three days before the predicted day, Savitri started fasting. On the day Satyavan was destined to die, the doting wife followed him to the forest. While cutting woods from a Vat Vriksha (Banyan Tree), he fell down and passed out. Soon, she felt the presence of Yama, the God of death. She saw Yama carrying Satyavan's soul and began to follow him. Yama ignored her, but when she didn't leave the trail, Yama began to grow anxious, and tried several tricks to persuade her to leave, but she wasn't the one to bow down. Savitri was adamant on following her husband where ever he went, but Yama told her that it was against the nature of Law. Savitri then asked him to return her husband to her, but Yama refused to do so too. Instead, he suggested that he will give her three boons and Savitri agreed.
Yama was pleased, and thought she would finally leave him. As part of her first boon she asked him to reinstate her in-laws in their lost kingdom with full glory. With the second boon she asked for a son for her father. And lastly, she said she wanted to have children. Yama granted her all the three boons after which Savitri revealed that for her final boon she must have her husband back as she can have children only from him.
Vat Purnima Vrat is observed during the month of Jyeshtha Purnima
Yama realized that he had been tricked by Savitri but he was also impressed by her dedication and perseverance to bring her husband back from the dead. He asked her to go back to the vat vriksha (banyan tree) where her husband's body lay dead and she would find him alive. She performed the Pradakishna around the Vat Vriksha and when she completed it, Satyavan woke up as if from
sleep
and they were reunited.
Pooja Rituals
Married Hindu women observe this festival by worshiping Savitri . The women take a bath early in the
morning
, wear new colourful clothes, bright bangles and apply vermillion on their forehead. They adorn their hair with one banyan leaf. During the pooja, women offer 9 types of fruits and flowers to Goddess Savitri which is followed by the Savitri Vrat Katha, and tying the sacred thread round the Banyan tree. As part of the bhog or the prasad, wet pulses, rice, mangoes, jackfruits, palm fruits, kendu, bananas and several other fruits are offered. After the fast is over, they consume the bhog and take blessings from their husbands.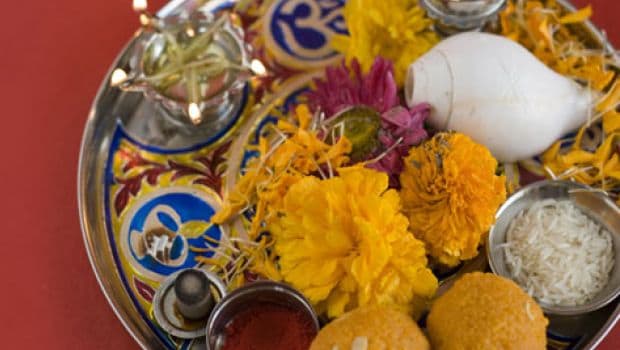 Married Hindu women observe this festival by worshiping Savitri
Tithi and Muhurat
Vat Purnima Vrat Puja date falls on June 8, 2017, Thursday.
Muhurat timings are from 16:16 on June 8 till 18:39 on June 9, 2017, Friday
About Sushmita SenguptaSharing a strong penchant for food, Sushmita loves all things good, cheesy and greasy. Her other favourite pastime activities other than discussing food includes, reading, watching movies and binge-watching TV shows.