The perks of living in the capital city is that whenever the urge to try different regional
Indian cuisines
kicks in, you can just head to one of the State Bhawan canteens or restaurants and enjoy a hearty meal. They are among the best places to savour traditional dishes and learn a great deal about the various regional cuisines. So after a 'fulfilling' experience at the
Andhra Pradesh
and Telangana Bhawan Canteen (
read here
), which is considered as a food institution in Delhi, the following weekend we headed to the Karnataka Food Centre at Delhi
Karnataka
Sangh Building for a taste of Kannada cuisine. Also referred to as KFC by patrons and residents of RK Puram who frequent the restaurant, it may not have the mad rush as the Andhra eatery, but it surely does serve a delicious fare and you can feast like a king for just INR 500!
The restaurant has a limited number of tables and therefore, during rush hours don't be surprised to find yourself sharing your table with other South Indian food lovers. On weekends, a queue of people waiting outside the restaurant is a common sight. Much like South India's darshinis, this restaurant too bears almost the same look. The granite-top tables, paintings with depiction of Lord Krishna and Arjun, the wooden motifs and the troop of potted plants at the entrance lend to creating a pleasant ambience, but the focus remains on the food as you find people rushing in, eating their food and rushing out to make space for others. There's no dilly-dally.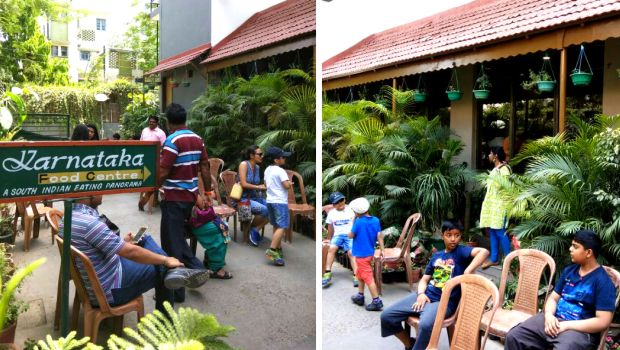 The menu features popular vegetarian delicacies from Karnataka, and there are the day's specials listed on the white board near the cash counter. We get down straight to business and order the Maharaja Thali and the Tiffin Thali. For those with a good appetite, the Maharaja Thali is the perfect pick where you start with spiced buttermilk, then snack on vada with chutney and papadam, move on to mains (which include poori, two vegetable dishes, rasam, sambar, a salad known as kosambari, plain rice, dal, pulao, curd and papad), savour rava kesari as dessert, and finish with a sweet pan as a mouth refresher. A complete meal indeed!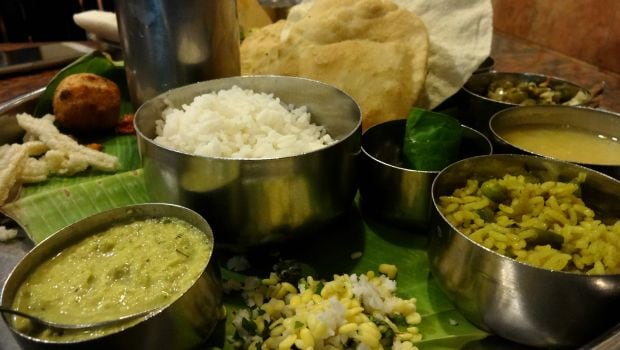 The Tiffin Thali is apt for those who would rather avoid rice. It includes what South Indian cuisine is most famously known for - idli, dosa and vada, along with coconut chutney, tomato chutney,sambar, upma, the day's special and Rava Kesari as dessert. It may not be as grand as the Maharaja Thali, but don't let it fool you because it will fill you up to the brim. We particularly loved the vadas for its incredibly crunchy outer and fluffy texture, which takes skills to master, as well as the crispy dosa, smeared with a generous spoonful of ghee, which you can team with the potato filling served on the side.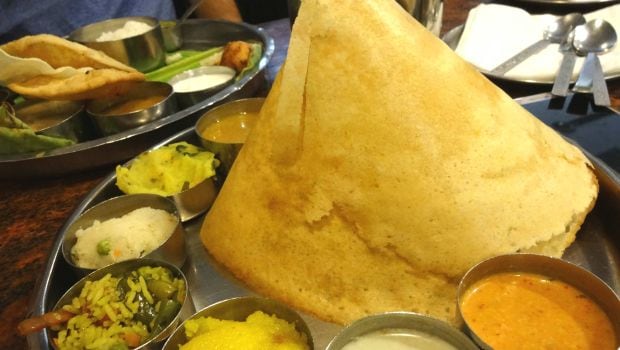 The dishes here make no forced attempt to strike a chord by being excessively spicy or greasy. They rely whole-heartedly on the simple flavours and perhaps that's what makes them immensely satisfying. Even if you feel the need to loosen your belt, the food doesn't set in the sense of heaviness. All the dishes are made fresh on the day, and they are reminiscent of home-cooked South Indian dishes.
If thali is too big a deal for you, try their a la carte menu with populars like dosa and uttapam, along with snacks like idli, vada, upma and Chow Chow Bath. Pongal, Puliyogare, Tomato Rice, Coconut Rice, Lemon Rice, Bisibele Bath and Vegetable Pulao are made only on specific days of the week, so plan accordingly.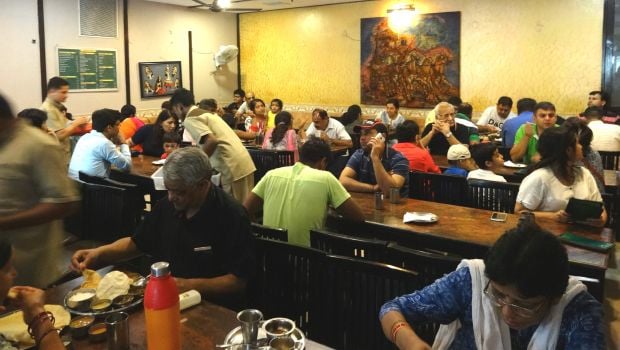 While there are many South Indian restaurants in the city serving a similar fare, it is still worth a drive to Karnataka Food Centre, which has been around for a long while, to relish their traditional meals. Besides, you can eat your fill without burning a hole in your pocket!
Where: Ground Floor, Delhi Karnataka Sangh Building, R K Puram, New Delhi
Time: 8 AM to 11 PM
Meal for Two: INR 500