Best Gujarati Recipes- Gujarati cuisine is one of the the oldest culinary treasures of India and is primarily vegetarian. It offers a wide variety of vegetarian dishes, each with its unique cooking style, different kinds of pickles, farsans, chutneys and foods that are always high on nutritional value. But the real essence of Gujarati food lies in the creative use of everyday vegetables and mild spices. It is an exquisite blend of flavors where sweet notes dominate most dishes like the famous Gujarati Kadhi., Dhokla and Fafda. Gujarat's coastal climate is mostly hot and dry which is why the use of sugar, tomatoes and lemon is quite common as these foods keep the body hydrated. Another distinctive characteristic of Gujarati food is its palate-pleasing combination of sweet and sour flavors.

In big business houses, a traditional Gujarati meal sits on a lovely silver platter and comprises of an elaborate affair complete with rotis, dal/kadhi, sabzi or shaak, rice and homemade pickles to tickle your taste buds. 'Vaghaar' is a blend of spices purified in hot oil and generously drizzled over dal to enhance the flavor and impart an irresistible aroma. The prominence of ingredients like besan or gram flour, lentils, sesame seeds and yogurt is another feature that sets Gujarati dishes apart.

Relish the flamboyance of Gujarati food with our top 17 traditional recipes:
One of the much-loved Gujarati snacks, khandvi is also known as Patuli or Dahivadi and made with gram flour. Khandvi is also a popular snack in Maharashtrian cuisine. This rolled, bright snack is tempered with coconut, mustard seeds and curry leaves aand is a delight to serve with tea.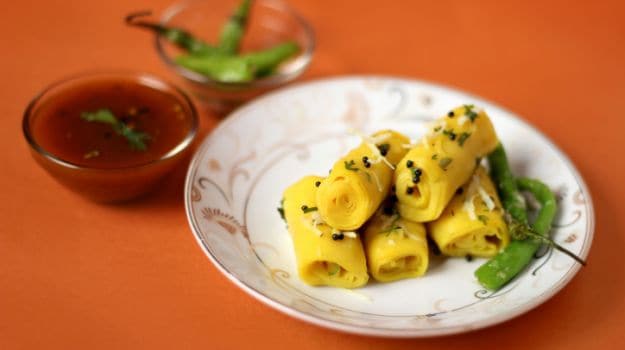 A bright yellow delight, khandvi is a delicious tea-time treat.
This much-loved tea treat is stuffed with a chunky filling of peas sauteed with sugar and lime juice. A spicy, tangy snack that is hugely popular in not just Gujarat but all across the country and even beyond borders. Since you can experiment with the filling to stuff it with, we have many samosa recipes like aloo samosa to keema samosa. Perfect for evening snacks along with a hot cup of tea.

Serve with a tangy sonth chutney for a enhanced flavour.
This Gujarati vegetable curry is wholesome and very healthy. Made with a mélange of winter veggies like brinjals, surti papdi, potatoes, coconut, bananas and methi, this dish is traditionally served in earthen pots.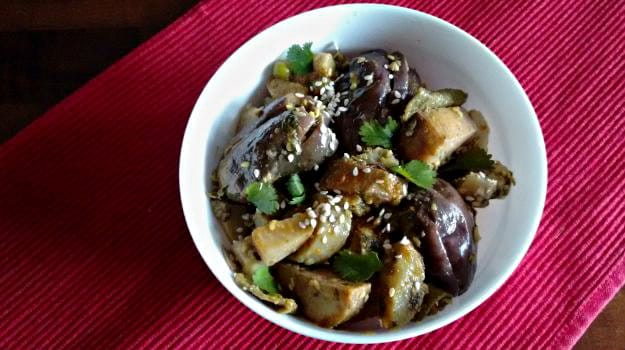 Image credit: Plavaneeta Borah. Explore the flavours of this authentic Gujarati vegetable curry.​
Shrikhand is a simple and soothing Gujarati dessert made with hung curd. Mango with Shrikhand is a heavenly combination one can have in summers! Shrikhand being a creamy and luscious Indian dessert is paired with the king of fruits.

Whip up some sweet comfort salad dessert with a soothing mix of yogurt, cream and mangoes.
A staple in almost every household, Gujarati kadhi is a lovely curry with sweet undertones. This cooling curry is great to escape the heat. (Recipe video)

Make this for lunch, paired with cooked rice and have a hearty meal on a weekend.
The ultimate Gujarati food, these Soft and spongy dhoklas just cannot be missed. Dhokla is one of the most loved Gujarati snack across the country and is made in multiple ways. This dhokla recipe is a quick and easy one that is delicious as well as healthy! A recipe that is steamed and made in just 30 minutes, using besan with a colorful, chili tempering. Learn the art of making steamed dhoklas at home with this simple recipe and serve your guests along with tea. Dhokla Recipe Video

You can serve dhokla along with a chutney or as is with a green chilli tempering.
A fragrant rice preparation along with dal, spices, peas, potatoes and raw mangoes. This is a Gujarati delight that one shouldn't miss!

Flavours of raw mango and assorted spices makes this dish a unique touch.
Popularly made in Gujarat, this fine and flavorful Indian bread with made from whole wheat flour kneaded with methi, chillies, herbs, yogurt and a dash of sugar.

A soft Indian flatbread that can be eaten in breakfast, brunch or even a full lunch meal.
A Gujarati and Rajasthani dish, Dal Dhokli is a comfort food also known as varan phal or chakolya. While it is a popular in the Marwar region of Rajasthan, it is a staple in all of Gujarat. Spiced whole wheat dumplings simmered in a lively curry made with tuvar dal, garlic, peanuts, kokum and turmeric.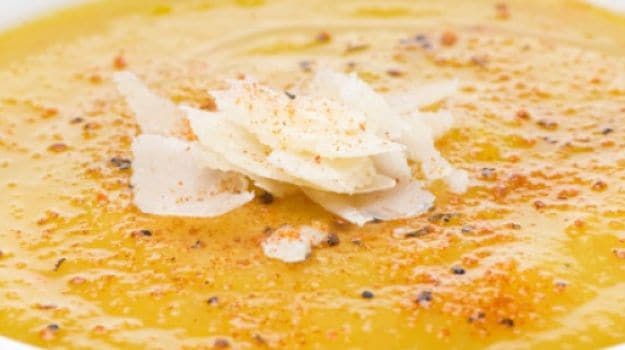 Pair with chapati, paratha or rice for a whole meal.
A savoury tea-cake that is crisp on the outside and soft on the inside. A healthy mix of bottle gourd (lauki) along with an aromatic mix of buttermilk, flour, coriander, chillies, lentils and rice. This is an easy and quick recipe made in just around 30 minutes, so you can serve this along with a chutney of your choice, to unexpected guests or even at dinner parties at home.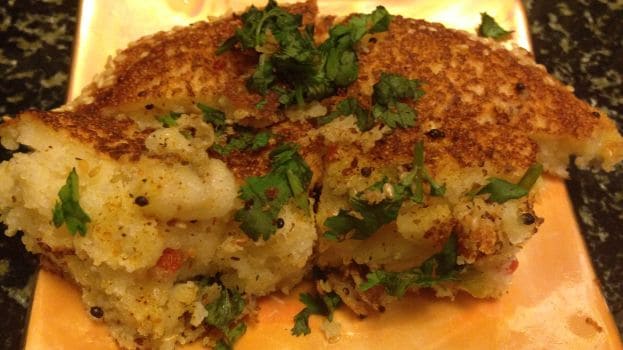 Easy, quick, delicious and healthy. Handvo s the perfect gujarati snack to binge on!
A popular tea time snack, fafda is one of the most loved Gujarati dishes. Laced with besan and fried crisp, this is best served with a chutney of your choice and fried green chillies garnished over it. It is stuffed with spices like ajwain, haldi and salt, fafda is a quick and easy snack that you can also savour during the monsoon as well.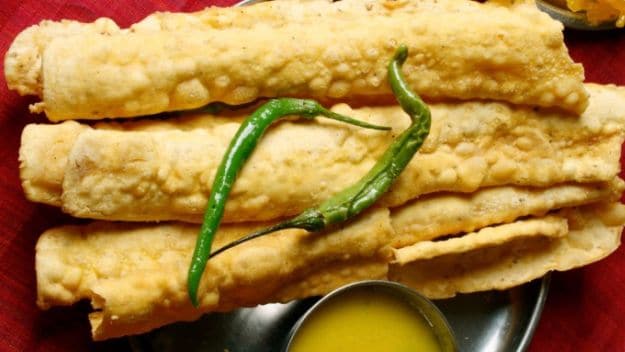 In some regions, fafda is also served with Gujarati Kadhi as well.
A popular snack recipe which is a great combination of flavour and good health! Colacasia leaves are a powerhouse of nutrients like Iron and when made into a delicious dish of Patra, it is tasty as well when a smooth paste of besan with spicy, sweet and sour flavours is applied over the leaves, rolled and steamed.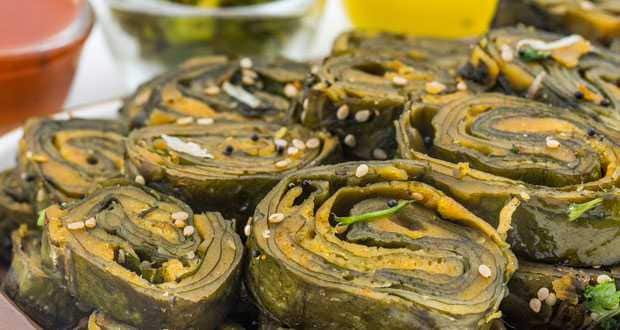 A different yet delicious Gujarati snack for your next dinner party!
Keeping the dessert always for the last! This is one Indian dessert that you just can't afford to miss. Shrikhand is a delicacy from both Gujarat and Maharashtra, which is also known as 'Matho' and is often offered as prasad in temples during pujas and many other festive occasions. Filled with rich, creamy flavour, this recipe has delicious yogurt topped with elaichi powder. A 3 ingredient recipe, made with a few simple steps.
Made with just a handful of ingredients and absolutely no time, this Shrikhand recipe is as easy as it can get.
Dhebra is a very popular Gujarati snack, that is made by using bajra flour (pearl millet) and methi (fenugreek leaves). It is served with yogurt, coriander mint chutney, or pickle.
Sev is a common ingredient that is used in Gujarati cooking, and this recipe is all about that crunchy texture from this namkeen with a fulfilling curry!
Sweet and tangy toor dal made Gujarati style with potatoes and peanuts. Tempered with loads of masalas and tomatoes for a mouth watering result.
Much like the beautiful name komal, the drink includes several delicious ingredients which come together to create a wonderful flavour of the drink.
These recipes can be made and enjoyed anytime of the year, for breakfast, snack or even lunch. Try making them a few times before expecting to perfect the recipe!