'Ekadashi' holds great importance in Hindu religion. While there are 24 Ekadashis throughout the year, 'Yogini Ekadashi' is observed with much devotion. Yogini Ekadashi comes between 'Nirjala Ekadashi' and 'Devshayani Ekadashi' and falls during 'Krishna Paksha' of 'Ashadha' month as per the North Indian calendar and during 'Krishna Paksha' of 'Jyaishta' month according to the South Indian calendar. Yogini Ekadashi 2022 is being celebrated on July 24 this year. This day is dedicated to worshipping Lord Vishnu to seek his blessings. Here is more information on the auspicious Hindu festival.
Yogini Ekadashi Fasting And Prayer Date, Timings:
Ekadashi Tithi Begins - 09:41 PM on Jun 23, 2022


Ekadashi Tithi Ends - 11:12 PM on Jun 24, 2022


On 25th Jun, Parana Time - 05:41 AM to 08:12 AM


On Parana Day Hari Vasara End Moment - 05:41 AM


(Sourse: Drip Pachang)
Significance Of Yogini Ekadashi 2022:
It is believed that fasting during Yogini Ekadashi and remembering Lord Vishnu can purge all past and present sins, and grant all the wishes of the observers. Devotees also hope to achieve salvation through fasting on this day. As per the legends, fasting on Yogini Ekadashi amounts to feeding 88 thousand Brahmins. The fast breaks the next day after sunrise, which is called Ekadashi Parana.
(Also Read: 7 Aloo Recipes For Vrat You Can Make Easily In 30 Minutes)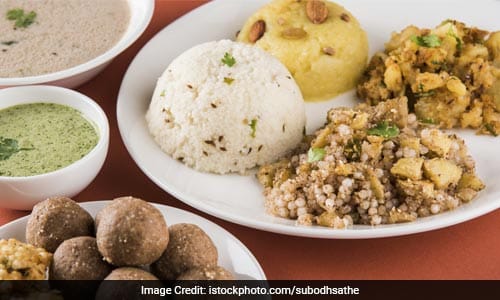 Yogini Ekadashi 2022 Vrat Ritual And Foods To Have:
Just like all other Hindu religious festivals, consumption of meats, onion, garlic, whole grains, lentils and legumes is prohibited. Milk, fruits and other vrat-friendly foods are allowed.


Here are some vrat-friendly foods you can have for Yogini Ekadashi:


1. Sabudana Recipes: You can use sabudana (tapioca pearls) to make vada, khichdi, kheer and more. Here are some recipes you can try.


2. Kuttu Recipes: While kuttu puri is most popular during the festival, you can also make cheela, paratha and more of these recipes with it.


3. Samak Rice: This is a special rice that is allowed during fasting. Here are three easy recipes you can make with samak ke chawal.


4. Singhara Recipes: Singhara is a vrat-friendly flour that can be turned into some delicious dishes. Here are 10 recipes you can try.


5. Makhana Recipes: Makhana kheer, makhana khichdi and more such delectable meals can be made with makhana for fasting. Check out these recipes.


Happy Yogini Ekadashi 2022!
About Neha GroverLove for reading roused her writing instincts. Neha is guilty of having a deep-set fixation with anything caffeinated. When she is not pouring out her nest of thoughts onto the screen, you can see her reading while sipping on coffee.