Singhara, an all-time favourite during the fasting season, enjoys little preference otherwise in mainstream Indian cooking. The Indian diet emphasizes on dietary fiber that comes from grains, lentils and millets. These ingredients dominate the kitchen almost all across the country. But come the season of Navratri and we see a heavy usage of other ingredients like amaranth, buckwheat and singhara. This is because most of the day-to-day food items are forbidden. Not only do these ingredients compensate for their traditional counterparts but are actually healthier. Navratri is a great time to reap the benefits of singhara.
Singhara, also known as water caltrop or water chestnut, is a fruit that grows underwater. It is usually a winter fruit but its by-products - especially the flour - are available round the year. The humble singhara has many names because of its peculiar looks - devil pod, bat nut and buffalo nut to name a few. It is alternatively known as paaniphal in most parts of India. Water chestnuts are also a central cooking ingredient in Chinese cuisine and used as a part of offerings to God during various religious and traditional ceremonies. Water chestnuts are usually eaten raw and are also enjoyed boiled and stir fried.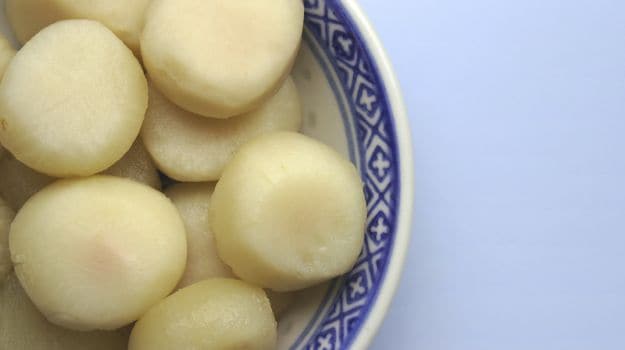 You can make many decadents with singhara.
The Flour
Water chestnut fruits are dried and ground to make flour, which is extensively used in many Asian countries, especially India and Pakistan. Water chestnuts are extremely low on calories, but are energy dense. Hence you will feel full for longer after consuming them. The fruits have no cholesterol and are enriched with essential nutrients and vitamins.
Singhara flour contains manganese and iodine, which are helpful in the proper functioning of the thyroid gland. It is also an excellent source of carbohydrates and nutrients like zinc, phosphorous, iron and calcium. "Essentially, if you notice, all chiefly used ingredients during navratri are carb based. They are an extremely good source of energy; however, what most of us tend to do is to make fried food items with them. Frying alters the composition of an ingredient, so a wise thing to do is to use it in a healthier manner. You can make rotis, cheelas and parathasrather than pooris," shared Dr. Anshul Jaibharat, nutritionist and weight management specialist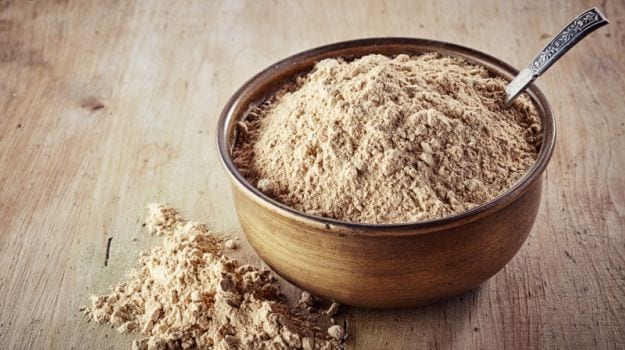 Singhara flour is healthy and low in fat.
Singhara atta is gluten free, low in fat and sodium. It can be used as a base in creating panjiri and many other wheat flour or all-purpose flour based preparations. This Navratri, we urge you to go beyond the ordinary and get inspired. Singhara flour is so versatile and multipurpose that its culinary expanse will excite and surprise you. Fasting or not, we bring you ten sensational recipes where you can use singhara atta and arrive at something delectable.
A perfect meal for fasting. Here's a wholesome curry made of colocassia (arbi) cooked with water chestnut flour and aromatic spices.

2. Aloo ka Parantha (Vrat)For those who can't live without their parathas, replace your everyday flour with singhara and you're done.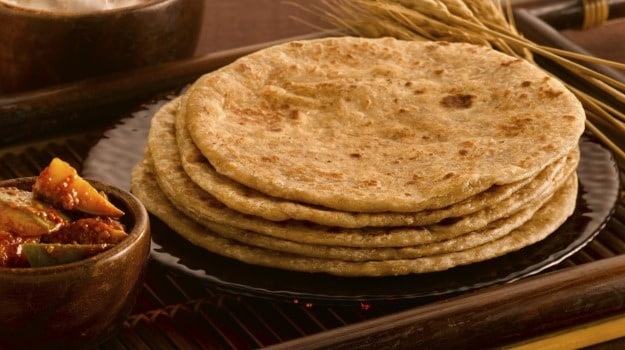 Make delicious parathas with singhara.
3.Paneer TikkiMade with singhare ka atta, sendha namak and other spices, this paneer snack is perfect for the festival of Navratri.
samosa
recipe using
singhare ka atta
. Fill it up with a spicy potato mix and serve with a fresh, home-made
pudina
chutney.

5. Singhara Atte ki Paapri ChaatIn the mood for some chaat? Try something different by replacing regular flour with singhara flour and munch on these crispy snacks.
6. Singhare Atte ka HalwaOur hearts beat faster at the sight of halwa. This version is made of singhara atta.

7. Paneer MazedaarCurried cottage cheese with melon seeds, singhare ka atta, rock salt and fresh cream.

8. Khire ke Pakode
Recipe by Chef Niru GuptaCucumber slices are coated in a batter of singhara flour and deep fried.
9. Singhare ke Atte ki MathiMatthis are an all-time hit. Recreating the comforting snack with singhara!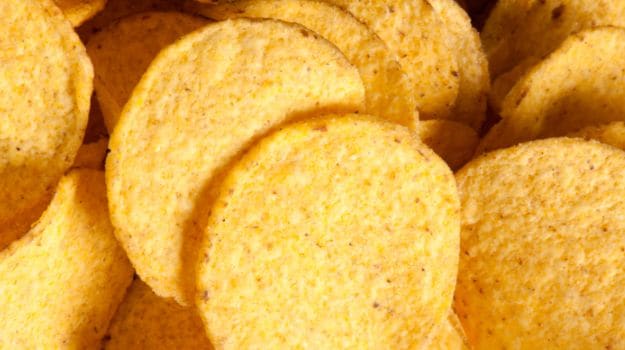 Make vrat-friendly snacks with singhara.

10. Singhare Atte ki BarfiA decadent Indian dessert minus regular flour. Singhara atta is teamed with green cardamoms and khoya and worked into mouthwatering barfis.