Alcoholic ice lollies and ice-cream will be having a moment this summer, not least because some clever engineering students have cracked how to freeze booze properly – but it's fun to make your own, too.Exciting news for humans who love alcohol and ice-cream – this summer is all about a spiky, heady mix of the two. Ice-cream makers have, for some time, been preoccupied with the task of inserting a decent glug of alcohol into their produce. This is notoriously difficult, thanks to the substance's reluctance to freeze: while water obediently turns to ice at zero degrees, pure alcohol can withstand the harshest arctic temperature. Happily, I can report that progress has been made.
LIC (Love Iced Cocktails), the alcoholic popsicle company, has cracked it, injecting a whopping 25ml of rum into each of its Calippo-shaped freeze pops. The engineering student duo behind the brand, Harry Stimpson and Noah Geeves, are keeping the recipe and technique close to their chests, but their important breakthrough shows that the feat is possible. A recent collaboration between Jude's, the Hampshire-based ice-cream maker, and Sipsmith, creator of Sipsmith London Dry gin, has culminated in the birth of a G&T ice-cream – it only contains a modest 2% alcohol, but, as I discovered when I went to the Sipsmith distillery, and talked to other experts (I know, tough gig), it's possible to hack ice-creams, lollies and granitas so that they pack a decent punch at home.
The best way to achieve the sweet union of alcohol and ice, according to Seb Cole, owner of Boho Gelato in Brighton, is by following a simple rule. Sugar and alcohol are softeners; fat is a hardener. Essentially, it's a ratio game, "If you're working with alcohol, you might need to reduce some of your sugar or increase your fat." Any source of fat would help prevent the melting caused by alcohol. "Even butter works," he says, "though do melt it first or you'll end up with lots of little bits." While Cole makes Italian-style gelato, Angela Wilkins of Drunken Dairy makes traditional custard-based ice-creams and recommends using less sugar, but "using sweetened bits of brownie, toffee or whatever else might be relevant to the flavour".
While the ingredients in ice-cream can be manipulated to accommodate alcohol, ice lollies are trickier beasts – getting fat into something that you don't want to be creamy requires a different approach. Stimpson and Greeves of LIC say if you want to recreate something more heavyweight at home, opt for low-sugar spirits such as gin and vodka, and add boozy solids, such as "watermelon soaked in vodka or cucumber soaked in rum". Artisan ice-lolly operation Ice Kitchen keeps the alcohol content in its lollies fairly low, but co-owner Cesar Roden has a nifty tip for helping to spike the end result: "We recommend dipping our Mojito ice lollies in some rum as you go ... or try lemon lollies with a dipping cup of tequila." In a similar vein, Jude's Chow Mezger suggests serving its gin & tonic number as part of an ice-cream float for an extra kick. And really, what's not to love about that?
Campari and orange ice lolly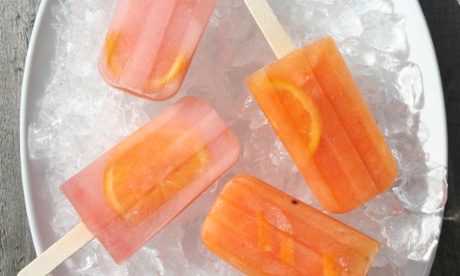 80g sugar
100ml water
400ml freshly squeezed orange juice
80ml Campari
2-4tbsp lemon juice, to taste
Orange slices and curls to garnish
Make your sugar syrup by heating the sugar and water and stirring until the sugar is dissolved. Allow to cool. Mix the remainder of the ingredients and adjust with lemon juice according to taste. Drop any orange garnishes into each lolly mould and fill with liquid, remembering to leave 1cm or so for the lollies to expand. (To make Campari soda lollies, replace the orange juice with 300ml water, and use 100ml lemon juice.)
Gin and tonic ice-cream float
500ml whole milk
300ml double cream
15g granulated sugar
3 large egg yolks
50ml gin
Pour cream, milk and sugar into a saucepan. Slowly bring to the boil then remove from the heat and allow to cool. In a separate bowl whisk the egg yolks. Slowly add the cooled mix into the whisked egg mix, stirring constantly.
Make sure the mix is well-cooled prior to doing this – you don't want to end up with scrambled egg ice-cream. Then pour this mix back into the saucepan and slowly heat through, stirring constantly. Allow mix to reach around 85C (185F) but not boil. Keep stirring at this temperature for 5 minutes. Remove from the heat and allow to cool to 5C. Once cooled, pour in the gin to taste – start at about 50ml and feel free to experiment, but if you go too heavy on the gin your mix may struggle to freeze. Pour your ice-cream mix into a plastic tub and place in the freezer. After an hour remove from the freezer and churn your mix to prevent ice-cream crystals from forming. Repeat this last step every 45 minutes until the mix is completely frozen.
For the float
Place one small scoop of the ice-cream in a glass. Pour over 20ml gin (Jude's uses Sipsmith London Dry gin). Top with a great-quality (and very chilled) tonic water, and pour slowly as the drink will start to fizz. Sip and scoop at leisure.
Pale-ale granita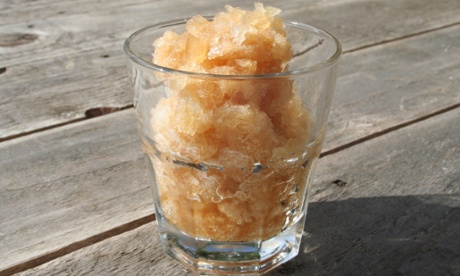 1 x 330ml bottle of Bison See Side APA (or another pale ale around 5%)
110g of sugar
110g water
Squeeze of lemon
Put the beer in a tall-sided container or large bowl and either blend with a hand-blender or whip with a whisk to beat out some of the fizz. Add the sugar and water and blend or whip well until all the sugar is dissolved. Try it and add a squeeze or two of lemon juice to taste. Place in the freezer for around 4 hours, then when frozen use a fork to scrape into flakes.
Alternatively, pour the mix into an ice-cream maker and run until you have a soft, snow-like texture.
Malt whisky ice-cream
400ml double cream
1/2 teaspoon vanilla essence
80g malt barley syrup
80g condensed milk
60ml blended whisky
Whisk the cream until soft peaks form. Mix the remaining ingredients in a separate bowl, then fold this mixture into the cream. Pour it into a tub to freeze.
1 Sipsmith and Jude's G&T ice-cream – a sorbet might have seemed like an obvious choice for a drink that enjoys a reputation for crisp, refreshing translucency, but the dairy base sits really nicely alongside lively botanicals. Available from their site, and Ocado.
2On the "poptail" front, look out for the creations from the aunt-and-nephew team behind Ice Kitchen. Spiked creations from Nadia and Cesar Roden include cosmopolitan and mojito. Available from nationwide branches of Cook.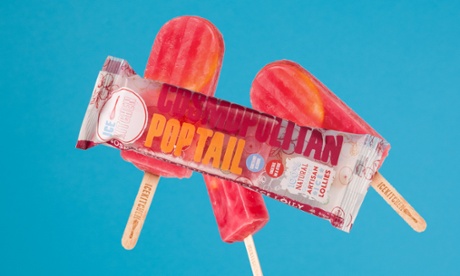 3Selling alcoholic ice-creams only, Melt On is a Melton Mowbray-based company (hence the name). Blue stilton and white port is one of the flavours owner Donna Morris markets through local Lecestershire outlets.
4Drunken Dairy's South London owner Angela Wilkins sells her ice-creams at fairs around the capital. Offerings include the not-to-be-balked-at white chocolate and Malibu (5.12% abv) and cider and mango sorbet (4.27% abv).
5LIC mojito and pina colada ice lollies are being joined by two more flavours this summer, and you'll be able to buy them all at festivals around the country, and through LIC's website, havealic.com.Top Photo: Perfect summer tonic… Sipsmith and Jude's gin and tonic flavoured ice-cream. Photograph: Katherine Anne Rose for the Guardian