With majority of the population becoming health conscious, major food and drink brands have started to replace the sugar in their products with erythritol. Erythritol is a sugar substitute, which tastes and looks like sugar, and yet has zero calories.The fact that sugar is very harmful has been on the news in the recent times. Various newspapers and channels have been trying to spread awareness about this through various hyperbolic statements like 'sugar is poison', and 'sugar can kill you'. This has made the consumers also conscious of their choices, and hence, a large portion of them prefers this sugar-replacement sweetener.
Even though this sweetener is touted to be very helpful, certain research studies suggest that they may be disadvantageous in the long run. Researchers from Cornell University in New York have found that erythritol may be associated with weight gain and increase in fat mass in young adults with substantial consumption of low-calorie foods, in which one of the main ingredients is this sugar alcohol, erythritol.
The findings revealed that erythritol, found naturally in pears and watermelons and increasingly used as a food additive, can be metabolised by and even produced in the human body.(Also read: 3 Natural Sweeteners Healthier Than White Sugar)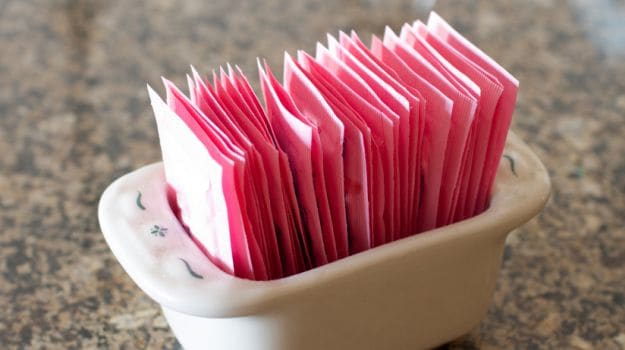 Image credit: IstockAbout the Study
In the study, published in the Proceedings of the National Academy of Sciences, erythritol - a metabolite - was found elevated at the beginning of the year in college freshers who went on to gain weight, fat and abdominal fat compared with their peers with stable weight. These students showed a 15-fold higher blood erythritol at the start of the year compared with their counterparts who were stable or lost weight and fat mass over the academic year, the researchers said.
"About 75 per cent of young adults experiences weight gain during the transition from high school to college," said Patricia Cassano, professor in the Division of Nutritional Sciences at Cornell University in New York.
Erythritol can be found naturally in various fruits, and hence in its composition is not really harmful, but the erythritol that is consumed by the people is manmade, and hence, a lot more harmful than the naturally occurring erythritol.
The World Health Organisation has defined genetically modified organisms (GMOs) as "foods derived from organisms whose genetic material (DNA) has been modified in a way that does not occur naturally, e.g. through the introduction of a gene from a different organism." Much of the erythritol used in foods and beverages today is derived from corn-starch from genetically modified corn. This is harmful because the consumption of GMO can lead to various serious diseases.
Inputs from IANS