Undeniably, cancer has assumed a menacing character in the world of lifestyle diseases. According to the World Health Organisation, there were an estimated 14 million new instances of cancer in the year 2012 which are on rise ever since. According to the official reports, these numbers are expected to rise by a whopping 70% over the next twenty years. In the year 2015 close to 9 million people across the globe died due to cancer. Every 1 in 6 deaths in the world is caused by cancer which, at present, is the second leading cause of global mortality. World Cancer Day is a brain child of the World Health Organisation celebrated on the 4th of February every year. The day is dedicated to spreading awareness with an aim to unite, "the world's population in the fight against cancer," WHO.
According to the United Nations, some of the key elements to curb in order to put a cap on the increasing instance of cancer include tobacco, obesity, alcohol abuse as well as lack of proper nutrition. Experts suggest that these four key factors alone contribute to a host of cancer types in people across the world.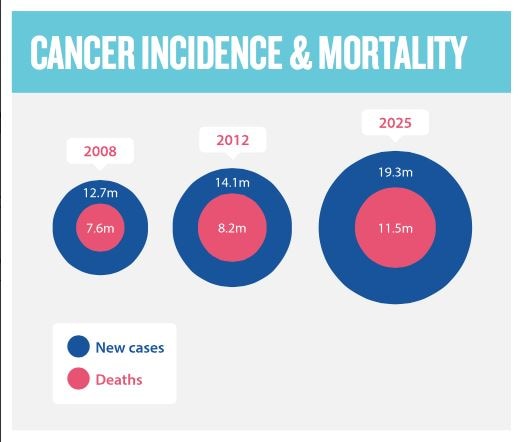 Source WHO
This year the focus is largely on spreading awareness on how to prevent this life threatening disease. According to a recent report published in Agence France Presse, development of preventive measures remains highly underfunded across the globe. Many countries still grapple with the need to be able to detect and diagnose cancer in its nascence, this itself leads to an increased occurrence of cancer-related deaths in many countries.According to the latest guidelines issued by the World Health Organisation this week, every year cancer kills an estimated 8.8 million people globally. Lack of timely detection, inadequate preventive measures and need for effective treatment mechanism are few things that are adding up to the burden. Research shows that people belonging to low and middle income groups are hit the worst. It should therefore be ensured that besides optimum awareness, financial support should be made available for all those who seek medical treatment and care.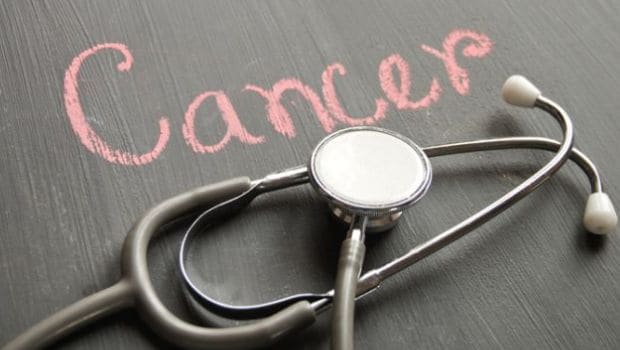 WHO states that with prevention alone close to third of global cancers can be avoided. Besides prevention and educating people about the same there is an urgent need to simplify the scientific, medical jargons for people as, "too many recommendations, excessive constraints will just make people throw it all overboard. We need to translate the science, make it accessible and warn people of the real risk between cancer and behaviour," Beatrice Fervers of Centre Leon-Berard in France told AFP.
On World Cancer Day, let us all make a conscious choice to educate ourselves about various lifestyle diseases. Let us pledge to maintain a healthy lifestyle against sedentary routine and lack of fitness activity. Say no to alcohol and tobacco abuse, keep a cap on processed foods and sugar consumption and ensure maintaining a healthy, balanced diet along with a proper sleep routine. It takes very little to keep healthy, it costs us nothing, let us aim to achieve a state of optimum health.
Today is #WorldCancerDay.
Here are ways to reduce your #cancer risk.
Together, let's beat cancer https://t.co/Zlwbs5Z5EZpic.twitter.com/m6aBqGNa3g

— WHO (@WHO) February 4, 2017
Today is #WorldCancerDay
Help spread the message that #WeCanICan take action to help prevent & fight #cancer around the globe. pic.twitter.com/UruKC9R5Cv

— NHS England (@NHSEngland) February 4, 2017
Thinking of anyone that is fighting cancer or has lost someone to cancer, we will all beat cancer together #WorldCancerDay#ActofUnity

— lols (@Lauren_Serena) February 4, 2017
Tobacco use is the most important risk factor for #cancer and is responsible for approximately 22% of cancer deaths #WorldCancerDay

— WHO (@WHO) February 4, 2017