For home cooks and chefs, the kitchen is no less than a sacred space. It is important to keep the kitchen well-stocked with all the necessary foods, utensils and appliances necessary for cooking. A well-organised kitchen that is clean and tidy can go a long way in making cooking a hassle-free and efficient process. Luckily, there are many ingredients that can act as natural cleansers and keep the kitchen neat and tidy. Lemon juice, for instance, is a natural cleansing agent that also cuts through dirt and grease and leaves behind a fresh-smelling kitchen.
What Can You Mix With Lemon Juice For Cleaning?
Lemon juice is acidic in nature and is an effective cleaning agent. However, it needs to be diluted before it can be used for cleaning. There are many ingredients you can mix with lemon juice including salt, water, vinegar or even baking soda. The idea is to reduce the acidic nature of lemon juice without compromising on its cleaning abilities.
How To Make Cleaning Spray With Lemon Juice?
It is definitely possible to make a simple cleaning spray with lemon juice at home. You need not head to the supermarket and buy this spray, as it can be done in a DIY way too. Take half a slice of lemon, extract its juice and dilute it with about 1 and a half cups of water. Alternatively, you can also add vinegar to the solution to make it an even more effective cleaner. Use it to sparkle surfaces in the kitchen and make them bright and shiny!
Also Read: 13 Smart Ways To Organise And Tidy Up Your Kitchen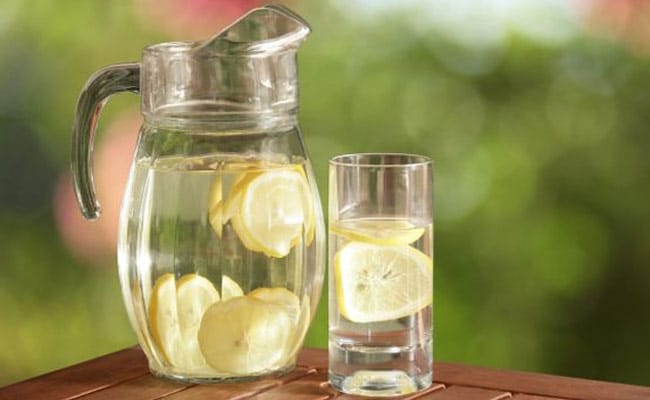 Kitchen Hacks With Lemon Juice
This is exactly why lemon extracts are often used as additives in store-bought cleaning solutions as well. Lemon juice can be used in myriad ways in keeping your kitchen odour-free and sparkly clean. From cleaning the microwave to removing rust from utensils, there are so many ways that you can use lemon juice in your kitchen cleaning processes.
Here Are 5 Amazing Kitchen Hacks To Clean Your Kitchen With Lemon Juice:
1. Clean Microwave
Microwave stains are some of the toughest ones to get rid of. Food spills and grease stains harden over many uses and do not come off easily. Believe it or not, lemon juice can be one of the easiest ways to clean up your microwave in a matter of minutes. Simply add the juice of half a lemon to a cup of water and microwave it for five to ten minutes. The stains will liquefy and come off easily with a kitchen towel.
2. Make Steel Utensils Shiny
Heavy usage of utensils often makes them lose their shine. Lemon juice can be a great way to restore their lustre without much hassle. Simply add a few drops of lemon while cleaning your stainless steel utensils and see the difference in the brightness and the results! You can also use lemon juice to clean your kitchen sink.


Also Read: Kitchen Tips: Top 5 Must-Have Knives For Every Kitchen
3. Remove Rust From Knives
Since lemon is acidic in nature, it can cut through and remove rust from knives and other utensils as well. Lemon is antibacterial and antiseptic and cleans up rust and adds an extra shine to the knives, making them look as good as new! Simply sprinkle some salt on a slice of lemon and scrub it up on the knife to remove rust, grease and dirt.
4. Clean Chopping Board
The humble chopping board is so frequently used in our kitchen, but in terms of cleaning, we tend to neglect it. If you are looking for a quick and easy hack to spruce up your chopping board, lemon juice surely will come to your rescue. You can either squeeze lemon juice directly on your chopping board and scrub it with a brush or else sprinkle some salt along with it. Your chopping board will become as good as new!


Also Read: Do You Have A Wooden Or Plastic Chopping Board? Here's How You Can Clean It
5. Deodourise
Thanks to the various cooking processes, our kitchen often has some funky smells and foul odours. Lemon juice can give your kitchen air a citrusy freshness and a delectable aroma even before you get cooking. Simply add lemon juice to a spray bottle along with water and spray it around the kitchen to remove bad odours completely.


Remember to spot-check lemon juice on your utensils and knives to make sure they don't react strongly or corrode. Avoid cleaning brass vessels with lemon juice as it can lead to the formation of toxins. So, keep your kitchen naturally clean and smelling great, thanks to lemon juice and our easy kitchen hacks!
About Aditi AhujaAditi loves talking to and meeting like-minded foodies (especially the kind who like veg momos). Plus points if you get her bad jokes and sitcom references, or if you recommend a new place to eat at.