Not all of us are lucky enough to have efficient house-help at hand, but we can have the next best thing - smart kitchen gadgets that take the load off.(More: Unbelievable Kitchen Appliances You'll Love - Part I)
These aren't 'save your salary for three months and then some' kind of tools, just simple ones that come with one clear idea to solve the most annoying kitchen problems.
I shall let the pictures speak for themselves.

The Never-Soggy Cereal Bowl
Get that crunch back: A bowl with separate compartments for milk and cereal, genius!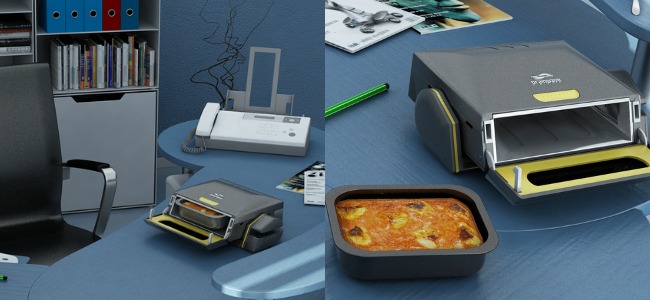 Desk Microwave Oven
Good things do come in small packages. Warm up your lunch right at your desk using a USB cable. That's right.
A Plate Clip For Your Wine Glass
Life's good when you're holding a plate full of food and a wine glass at a party, except when a handshake comes your way. Here's to no more awkward juggling and wobbling.
Ramen Spoon and Fork
Spork: A spoon for the broth and a fork for noodles in one!
Spice Book
You can buy, wash, chop, grind and store spices, or you can just tear-and-use them out of a book!
Pineapple Peeler
Like a lot of other people, if I have to peel and core a pineapple, I'd rather skip eating it altogether. Introducing, this God-sent peeler, which does the job in seconds.
Chopping Board and Scale
Chop and weigh your veggies at the same time!
Floating Mug
The no-coaster-required coffee mug: I'd buy it just for the design, but it eliminates ugly rings on the table too!
Toasted Selfie
Toast bread with your selfie on it because why not?
Heated Butter Knife
World's first knife that solves the world's biggest problem - cold butter that's impossible to spread on toast.
Egg Yolk Separator
No more sticky, gooey hands, everyone. Sorry, but I have to say- egg-cellent!
Dumb-Bell Cutlery
Want to lose weight but not prepared to stop eating? Work out with each bite with these 1kg knives & forks and 2kg dessert spoons.
Knife, Spoon and Fork Pen Covers
Not even a minute to waste? Turn your pen into cutlery in less than three seconds.
There you have it, folks! So immensely glad that with time, kitchen gadgets are getting more snazzy and cutting edge. Now, the only thing left to do is to wait for them to come out with a Jetsons-style kitchen, ah.