We all know that breakfast is the most important meal of the day. While there are many recipes we can make, nothing beats a hearty breakfast with a spread of different dishes! And if it is a meal that you order in a restaurant, then we all can indeed brace ourselves for a taste that we might not get in our home-cooked dishes. We recently spotted Anushka Ranjan and Aditya Seal indulging in scrumptious breakfast. Sharing a glimpse of their meal, Anushka Ranjan posted an Instagram story of Aditya Seal having drool-worthy dishes.


In the image, we could see a plateful of tacos, a small portion of lettuce salad with sour cream, two types of dippings and a glassful of shake topped with cream and biscuits. Anushka attached a sticker on the story that said, "I'm Hungry." Along with this, she also wrote, "Breakfast for champions? @adityaseal" Take a look at it here:
So, if just looking at this delicious plate of tacos makes you hungry for some, then fret not. We have just the recipes you need to make tacos easily at home. Find the recipes below:
(Also Read: Anushka Ranjan Prepares Delicious Pancakes And We Can't Stop Drooling)
Here Are 5 Taco Recipes You Can Make At Home:
Make this taco loaded with vegetables like gherkins and olives! You can easily experiment with it and add any veggies of your choice. This dish is made much better with a cheese and sour cream topping, as well as pineapple salsa and tomato salsa.
If you don't have any taco wraps at home then don't worry! Use your standard rotis to make tacos. Fill the phulka with a rajma mixture consisting of cooked rajma and crushed soya combined with onions, tomatoes, and various spices.
Cook marinated chicken in one spoon of oil and place it into lettuce cups instead of taco cups for a 'healthy' spin on your taco. The salsa dip compensates for any shortcomings in this healthier taco variation!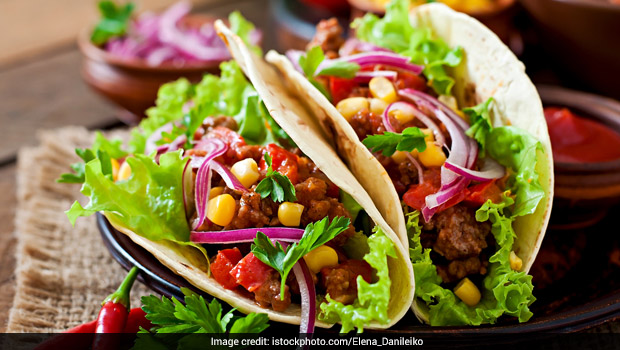 Parts of jowar and wheat flour is used in this recipe to prepare nutritious taco cups. Spicy chicken is combined with various vegetables such as lettuce, peppers, onions, tomatoes, and corns to provide a flavourful and nutritious twist in this dish!
5. Paneer Tacos
This recipe is for all paneer lovers! In this dish, paneer, tangy tomato sauce, onions, green chillies, chaat masala, lemon, and other ingredients are used to make desi-style tacos. They will be ready in no time!


Try out these dishes and let us know which one you liked the best!