Potato chips are probably one of the favourite snacks across all age groups. A pack of store-brought potato chips or even homemade ones can instantly perk up even the gloomiest days. The crunch factor of the deep-fried treats paired with a drizzle of salt makes it a class apart from any other indulgent snack. But what would your reaction be if we told you someone made an Indian curry with our favourite crunchy treat? Yes, you heard us right. A food blogger created a 'potato chips curry' and shared it on Facebook. Don't believe us? Take a look for yourself:
Minimum 14 years of rigorous imprisonment for this confession of Murder pic.twitter.com/wKVaceg1rl

— Gabbbar (@GabbbarSingh) June 7, 2021
The photo of the chips curry was posted in a Facebook group called Kolkata Food Trotters. The gravy dish seemed to be made with an onion-tomato masala to which the chips were added. Whole green chillies were also used to garnish the eccentric creation. Although the post was later deleted, it was widely circulated on various social media channels. "Chips curry... My own concept," read the caption to the post which received thousands of reactions all over the internet.


Take a look at the reactions:
I was similarly sort of surprised to see 'papad ki sabji' in Mumbai. But I got to know it's a common marwadi and gujarati dish. Tastes yummy though— preetamchandra (@preetamchandra) June 10, 2021
For what it's worth, I feel tempted to try.
There is a subtler version of this which is popular among the residents of North Bangalore. It is served in Sai Ram Chats - Malleshwaram.— Akshay Harish (@lostbagur) June 7, 2021
I never liked the idea of taking the strength out of anything, in this case the crispness out of chips.— Gogol Mukherjee (@MukherjeeGogol) June 8, 2021
Humanity is under attack 😂😂— Garvit (@beingarvitt) June 7, 2021
Indian foodies and Facebook users were appalled by the bizarre creation, which was posted by an unknown user on the private Facebook group. Many thought it was one of the 'laziest dishes' they had ever come across. "Sometime I think we deserve Covid," wrote one sarcastic user while another said, "Keep your own concept to yourself please."


(Also Read: These Homemade Potato Chips Taste Just Like The Store-Bought Ones)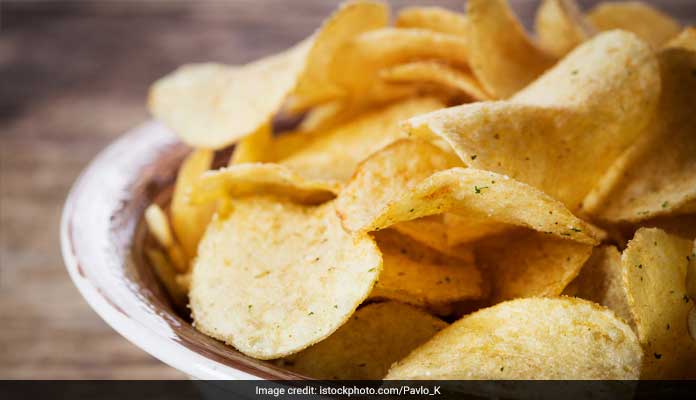 Interestingly, this is not the only bizarre food to have disgusted the internet in the recent past. Recently, a food blogger had created her own version of instant noodles by adding crushed chocolate biscuits to it.


Would you like to try these weird food combinations? Share your thoughts in the comments below.
About Aditi AhujaAditi loves talking to and meeting like-minded foodies (especially the kind who like veg momos). Plus points if you get her bad jokes and sitcom references, or if you recommend a new place to eat at.