Not Just About the 'Aloo Patty'
Mid-day , Mumbai | Updated: August 23, 2012 12:22 IST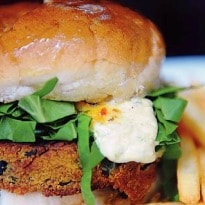 Aloo patty in a vegetarian burger is no longer the dead end in the menu. Sonal Ved trails the city to find the best veg burger options such as rajma, hummus and sticky rice fillings.

The city and its love for all-things vegetarian has led to many changes in restaurant menus. From French eateries serving dishes sans onion and garlic to five-star chefs cutting out 80 per cent of their menu as vegetarian -- a lot of accommodation is made for the herbivorous gourmet. One such adaptation is the emergence of vegetarian burgers and its growing popularity among diners.

Vegetarians do not have to make-do with a dry bun, stuffed with a potato or cottage cheese patty -- today, there are at least a dozen meat-free options available. Take for instance the Bandra-based Burgs that does six varieties of vegetarian burgers. "From corn and aubergine to mac and cheese, we ensure that there is something for everyone,"says owner Krishna Kilachand. Here are five no-meat, no-potato and no-cottage cheeseburgers.

Sticky rice burger
At Woodsie Inn
Pic/Sayed Sameer Abedi


Yes, the Americans are responsible for the burger, but the Japanese are not far behind when it comes to adapting a dish. The Sticky Rice Burger is influenced by Japanese cuisine and the patty uses sticky rice -- a variety commonly used to make sushi. The short grain is tossed with spices such as rock salt and freshly ground pepper before it is grilled and stuffed into the burger. For bread, the restaurant offers a choice of crusty ciabatta bread or a brioche bun. Since the umami-tasting patty is essentially crunchy, we went for the latter. Brioche is kneaded using milk instead of water, it is softer and has a pleasant, sweet bite as compared to the crusty ciabatta. The dish is served with house salad, made with carrots, bell peppers and creamy mayonnaise.

The restaurant also offers an add-on of potato skins or truffle-tossed French fries. Since gourmet is the way to go we were looking to go, we paired ours with fries that were sparingly flavored with fragrant truffle oil. Owner Pankil Shah says: Instead of only using ingredients from a particular cuisine, we borrowed cooking techniques as well. Take, for instance, the Estonian burger. Since a lot of Estonian cooking is done by char grilling the vegetables, we use blackened carrot, beetroot and pasta for stuffing.

At: Woodside Inn, New Link Plaza, Oshiwara Link Road, Andheri (W)
Call: 26328963, 26336549
Cost: Rs 375


McEgg burger


The recently launched, egg-based burger at McDonalds is for those looking for lunch on the go. Though the dish, complete with eggs, bread, cheese and veggies, is perfect for breakfast lovers, the fact that it is available only post 11 am, makes it a no-show for early birds.

The burger doesn't have a conventional patty. Each bun is stuffed with one egg, cooked under a steamer designed especially to create this burger. The stuffing is flavored with a mix of herbs, white sauce and is topped with onions that add crunch to the otherwise soft preparation.
Though the dish lacks a touch of salt, it tastes good with tomato ketchup. Spokesperson Smita Jatia says: "Eggs are a natural source of high quality protein, multiple vitamins and minerals. They are also low on calories."

At: All McDonalds outlets
Cost: Rs 25


Caribbean black bean burger
Pic/Anita Anand


This is a one shot cure to your midday hunger pangs. The mammoth-sized Caribbean burger available at Hard Rock Cafe makes burger munching a gourmet experience. The patty stuffed into the burger bun is made using imported, boiled black beans, Cajun spice, parsley, garlic and onion powders.

While their choice of bread is a tad bit unhealthy, considering it is made using refined flour, they more or less make up for it by baking the patty instead of deep frying it like others. The closed bun is served to us with a drizzle of mango chutney and a Tunisian sauce known as charmoula, a sweet sauce that gives the dish its core flavor made using olive oil, parsley, chilli flakes and black pepper. It adds a savory taste and blends beautifully with the taste of sweet potato that goes into binding the patty.

Chef Jerson Fernandes says, "The biggest challenge while designing vegetarian burgers is to ensure that they are as juicy as their meaty counterparts. We retained the moisture that is naturally present in ingredients such as mushrooms, carrots and chickpeas while cooking. This results in a juicy patty."

At: Hard Rock Café, Bombay Dyeing Mill Compound Pandurang Budhkar Marg, Worli
Call: 24382888
Cost: Rs 505

Rajma burger
Pic/Atul Kamble


The Rajma Burger at 36 Oak and Barley has a contemporary twist of parsley, mint and cilantro.
Jain fellas, rejoice. The kidney bean burger available at 36 Oak and Barley specially caters to your no-onion, no-garlic needs. The patty, made using semi-mashed pieces of kidney beans is not as pasty as the name suggests.

It has a crispy bite with a hint of masalas such as star anise, fennel, mace and coriander seed powder. But don't cast it away as desi just yet. The stuffing is generously flavoured with fresh herbs such as parsley, mint and cilantro, which give it a contemporary twist. The whole-wheat bun comes stuffed with layers of lettuce, tomato and a side of cabbage, carrot and zucchini salad dressed in eggless mayonnaise. Chef Nachiket Shetye says: "Owing to its popularity, we also plan to introduce other options such as couscous, chickpea and beetroot burger by the end of this month."

At: 36 Oak and Barley, 76, August Kranti Marg, Gowalia Tank, Tardeo
Call: 23811010
Cost: Rs 250


Mushroom and tofu burger
Chef Amit Bajaj makes a Mushroom and Tofu Burger at Indigo Deli
Pic/Sayed Sameer Abedi


Indigo Deli has a choice of three vegetarian burgers, out of which the mushroom, tofu and spinach burger hits the spot. The burger patty has a distinct bite where each flavor comes out just right. While the mushroom delivers an earthy taste, the spinach and silken tofu add to its health quotient.

The patty is rolled in crackled wheat, which brings in crunch and highlights the textural contrast between soft veggies and the burger's crispy exterior. The deli, which specializes in in-house bread, uses a multi grain bun for this preparation. The dish is served with salted French fries and a lettuce salad.

Chef Amit Bajaj says, "Since beef and lamb are firm meats, getting a bite into the patty is relatively easy. But with ingredients such as mushroom, spinach, potato, corn, soya and barley, we had to crust it with crunchy polenta and broken wheat to bring out a texture."

At: Indigo Deli, Phiroze Building, Ground Fl, 5,Chattrapati Shivaji Maharaj Marg, Apollo Bunder
Call: 6655 1010
Cost: Rs 425


Lebanese spiced burger
By Chef Varun Sheth from 1 Tablespoon Gourmet Catering
Pic/Shadab Khan

Falafel Patties
Ingredients:
250 g chickpeas, boiled
3 medium onions, finely chopped
5 Tbsp cilantro, finely chopped
2 Tbsp parsley, finely chopped
2 Tbsp mint, finely chopped
2 Tbsp ground coriander
1 Tbsp ground cumin
1 Tbsp red chilli powder
6 cloves of garlic
Salt to taste

Method:
In a food processor, grind all of the ingredients to a fine paste and season it with salt.
Make small roundels and fry in hot oil until brown. Drain on a kitchen paper and leave aside.


Hummus
Ingredients:
100g chickpeas, boiled
1 Tbsp tahini paste
Juice of 1 lemon
4 large cloves
Pinch of cumin

Method:
Grind all the ingredients into a fine paste and leave aside.

Tahini sauce
Ingredients:
1/4 cup tahini paste
1/2 cup water
2 Tbsp parsley, chopped
1 garlic clove
Salt to taste

Method:
In a bowl, mix the ingredients and leave aside

Plate up: Toast burger buns and apply hummus on both sides. Place the falafel in the centre and drizzle it with tahini sauce. Place the bun on top and serve.