Story Progress
Back to home
Anda Kaleji Recipe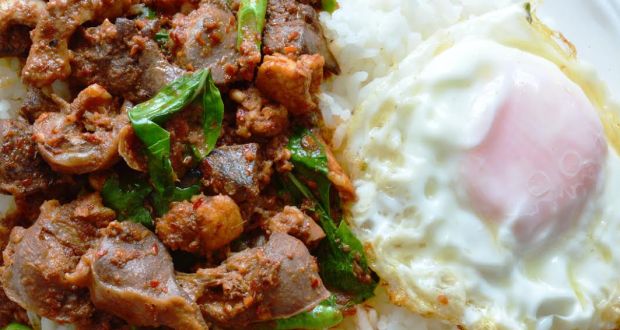 How To Make Anda Kaleji
Liver and egg cooked with a range of masalas, can be served with sulemani parantha or khameeri naan.

Ingredients of Anda Kaleji
500 ml oil
1 Tbsp ginger paste
One and a half tbsp garlic paste
3 onions, chopped
1/2 kg tomatoes, chopped
1 Tbsp ginger, chopped
2 cloves garlic
1 Tbsp red chilli powder
1 Tbsp turmeric powder
1 Tbsp coriander powder
1 Tbsp cumin seeds
1/2 Tbsp garam masala
1 Tbsp chilli, crushed
1 tbsp black pepper
Salt to taste
1 Tbsp green chilli, chopped
1 kg kaleji
6 eggs
Few sprigs coriander leaves (for garnish)
1.
Take a big degchi. Put oil and let it heat.
2.
Add ginger paste and garlic paste.
3.
Add onion, tomatoes, ginger, garlic, spices and green chillies. Cook together.
4.
Then add kaleji and cook for 25 minutes.
5.
Add raw egg to the cooked kaleji and mix till done.
6.
Garnish with coriander leaves.
7.
Suggestion: Serve with sulemani parantha or khameeri naan.