Story Progress
Back to home
Apple Carrot Muffin Recipe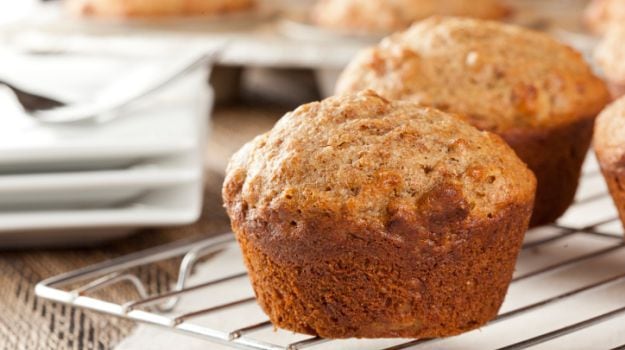 How to make Apple Carrot Muffin
Heavenly muffins made from oatmeal, apples and carrots. Perfect for a healthy tea time snack.

Ingredients of Apple Carrot Muffin
1 cup apple, peeled and grated
1 cup flour
1/2 cup oatmeal
1 tsp baking soda
1/2 tsp baking powder
1 tsp cinnamon powder
3/4 cup brown sugar
1 cup carrot, grated
1/2 cup dry fruits, finely chopped
1 Tbsp flax seed
1 Tbsp raisins
1 cup milk
1 tsp vanilla essence
1 egg, beaten well
1 Tbsp oil
1.
In a large bowl, take flour, oatmeal, baking soda, baking powder and cinnamon. Mix well.
2.
Add brown sugar, carrot, apple, dry fruits, flax seed, raisins, milk, oil, vanilla essence and egg. Fold the mixture well.
3.
Grease muffin tray. Fill prepared muffin cups 2/3 full with batter.
4.
Bake at 180 degrees for 15 to 20 minutes, or until a toothpick inserted into the center of a muffin comes out clean.