Story Progress
Back to home
Auriya Kaddu Recipe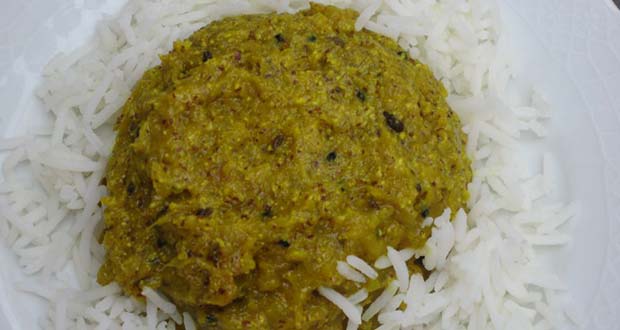 About Auriya Kaddu: A great way to cook seasonal pumpkins, this authentic recipe comes from the Northern state of Himachal Pradesh. We love the pungent, spicy flavors that go together to make this delicious dish.

Ingredients of Auriya Kaddu
8 cups chopped pumpkin
2 tablespoons mustard oil
1 tablespoon panch phorun ( combination of 5 whole spices - available at any Indian store)
Pinch of asofetida (hing)
2 bay leaves
2-3 whole chili
1 teaspoon turmeric (haldi)
1 teaspoon coriander powder (dhaniya)
1 teaspoon amchur (dry mango powder)
1 cup chopped cilantro
Grind together:
30 grams black mustard seeds (rai)
3 tablespoons water
2.
2. Add the panch phorun and asofetida.
3.
3. Add 2-3 whole chili and fry.
4.
4. Add the chopped pumpkin and mix well.
5.
5. Cook for about 15 minutes until the pumpkin is soft.
6.
6. Add turmeric and salt to taste.
7.
7. Cook for a few minutes and then add the dry mango powder.
8.
8. Mash the pumpkin and take off the heat.
9.
9. Let the pumpkin dish cool.
10.
10. Add the ground mustard mixture and mix well.