Story Progress
Back to home
Baked Ham Recipe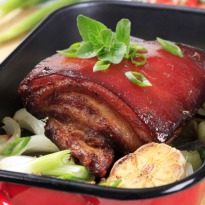 Ham cooked with beer, veggies and spices, and glazed with a honey-mustard sauce. Makes for a perfect Easter supper!

Ingredients of Baked Ham
2 kg leg of smoked ham
2 onions
2 carrots
2 celery sticks
1 bottle beer
4 quartered apples
2 tsp peppercorns
1 bay leaf
For the Glaze:
4 Tbsp honey
100 gm grated jaggery
1 tsp English mustard
Malt vinegar
2 tsp sugared ginger
2-3 chopped apricots
8-10 cloves
Pineapple and Grape Salad:
250 gm diced pineapple
250 gm halved black grapes
250 gm pomegranate kernels freshly ground pepper
2 Tbsp shredded herbs
2 tsp sugar
Juice of 1 lemon
1.
Soak ham in water overnight to remove excess salt.
2.
Remove the ham and place it in another pot.
3.
Cover ham with beer, vegetables, spices and enough water to immerse meat.
4.
Cover and simmer until tender.
5.
Remove skin when cool. Score the fat and insert cloves.
6.
Heat honey and pour over the ham.
7.
Combine remaining ingredients and spoon over the ham.
8.
Cook in a moderate oven at 180 degrees C for 20 minutes.
For the pineapple and grape salad:
1.
Combine all the ingredients and chill well.