Story Progress
Back to home
Balachung (Shredded Dried Shrimp Condiment) Recipe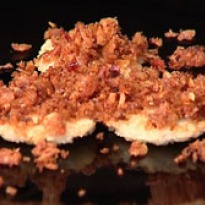 How to make Balachung (Shredded Dried Shrimp Condiment)
Shredded shrimp cooked with onions, garlic and paprika.

Ingredients of Balachung (Shredded Dried Shrimp Condiment)
1 cup dried shrimp
1 yellow onion
1 cup oil
1/2 tsp ground turmeric
8 garlic cloves - thinly sliced
1 tsp paprika
1/2 tsp salt
2 Tbsp dried red chili pepper
2 Tbsp distilled white vinegar
2 tsp granulated sugar
1.
Shred the dried shrimp in a blender and set aside.
2.
Cut the onion in half vertically and than slice the halves thinly to form crescent-shaped fans.
3.
Heat the oil in a frying pan over medium heat. Add onion and turmeric and cook until the onion begins to color, about three minutes.
4.
Add the garlic and continue to cook until the onion and garlic are golden brown, about six minutes.
5.
Add the shredded shrimp, paprika, salt, chili, pepper, vinegar, and sugar and stir fry for 3 minutes.
6.
Remove from the head and let cool to room temperature before serving. Save the leftover in a closed jar.