Story Progress
Back to home
Beetroot Soup Recipe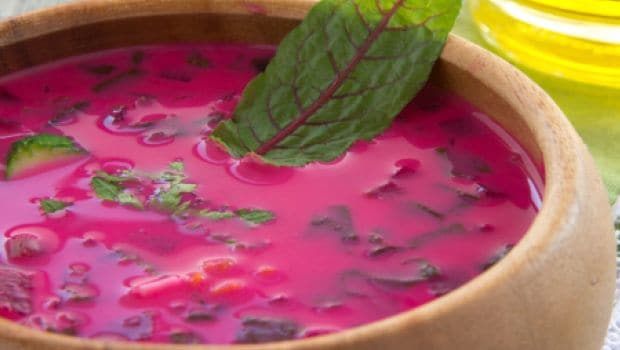 How to make Beetroot Soup
Healthy and hearty soup of beetroot and bottle gourd, tastes good hot or cold.

Ingredients of Beetroot Soup
1 Cup Beet root (chopped), peeled
1 cup Bottle gourd (ghiya) (chopped), peeled
1/2 cup Onion, chopped
1/2 cup Tomato, chopped
1/2 cup Potato (chopped), peeled
1/2 tsp Sugar
to taste Salt
1/4 tsp Black pepper, powdered
Cream
For garnishing Coriander leaves, chopped
1.
Place the beetroot, bottle gourd, onion, tomato and potato with two cups of water in a pan.
2.
Bring to a boil and then simmer till all the vegetables are soft.
3.
Cool and blend in a blender. Strain through a sieve.
4.
Add sugar, salt and black pepper.
5.
Serve hot or chilled garnished with the cream and coriander leaves.