Story Progress
Back to home
Bengali-Style Aamer Chutney Recipe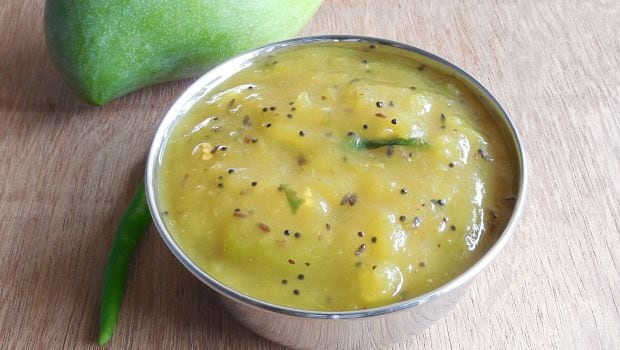 How to Make Bengali-Style Aamer Chutney
Bengali-Style Aamer Chutney: This chutney made with the goodness of mangoes is perfect for this summer season. This is a very easy recipe that you can prepare within minutes and serve with anything.

Ingredients of Bengali-Style Aamer Chutney
2 ripe mangoes, peeled and diced
1 tbsp mustard oil
1 tsp kalonji
1/2 tsp methi seeds
2-3 dried red chillies
1/2 tsp haldi
1/2 cup jaggery or brown sugar
1 tsp red chilli powder
1 tsp ginger, grated
Salt to taste
Water (as needed)
Coriander leaves for garnish (optional)
1.
To begin with, heat the mustard oil in a pan over medium heat. Once hot, add mustard seeds, kalonji, methi seeds, and dried red chillies. Stir and saute for about a minute until the seeds start to crackle.
2.
Add the diced mangoes to the pan and stir well to coat well with the spices. Cook for about 2-3 mins until the mangoes start to soften slightly.
3.
Reduce the heat to low and add haldi, red chilli powder, grated ginger, and salt. Mix well to combine all the ingredients.
4.
Cover the pan and allow the mangoes to cook for another 5-7 mins. (This helps in releasing its juices).
5.
Uncover the pan and add jaggery (or brown sugar). Mix well until the jaggery melts and combines with the mangoes. Continue cooking for a few more minutes or until the chutney reaches your desired consistency.
6.
Remove it from the heat and let it cool to room temperature. Garnish with fresh coriander leaves and enjoy!