Story Progress
Back to home
Caramelised Duck With Fig Chilli Chutney And Champ Potatoes Recipe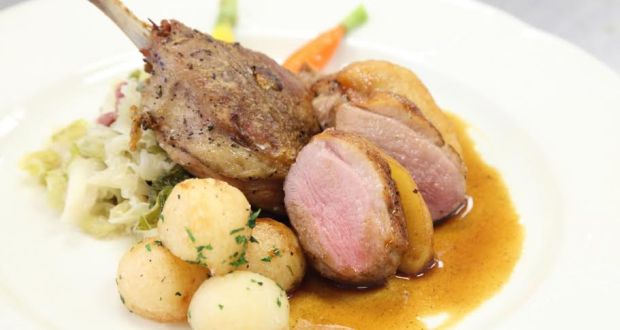 Braised duck, caramelised in the oven, served with fig and chilli chutney accompanied by seasoned potato mash.
Total Cook Time

1 hr 15 mins

Ingredients of Caramelised Duck With Fig Chilli Chutney And Champ Potatoes
For Caramelised Duck:
8 duck breast fillets with skin
2 Tbsp honey
3 tsp red chilli powder
1 tsp turmeric powder
1 tsp amchoor powder
Salt to taste
2 Tbsp butter
2 cups oil
1 pod garlic, chopped
For Champ Potatoes:
6 medium potatoes
6 spring onions
1 tsp red chilli flakes
1/2 cup double cream
2 Tbsp butter
2 Tbsp orange juice
2 tsp lemon
For Fig Chilli Chutney:
3 Tbsp dried figs, chopped
3 tsp dried plums, chopped
1 medium onion, sliced
3 Tbsp jaggery (gurr)
3 tsp red chilli flakes
1 cup white vinegar
1 tsp mustard seeds
How to Make Caramelised Duck With Fig Chilli Chutney And Champ Potatoes
Hide

Show

Media
For Caramelized Duck:
1.
Diagonally score the duck skin with a knife making sure you don't cut all the way through.
2.
Rub honey, red chilli powder, turmeric powder, amchoor powder, salt on both sides of the duck.
3.
Then braise the duck in a pan with butter, oil (to drizzle) and garlic, cooking both sides for approx 3 minutes each.
4.
Place onto a pan and place in an oven to cook at 180 deg C for 15 minutes. Remove and allow to cool before slicing.
For Champ Potatoes:
1.
Make the champ potatoes by boiling the potatoes and then merging with fresh spring onions.
2.
Add in a little chilli red chilli flakes, double cream and butter.
3.
Squeeze in some orange juice (about 2 tbsps) and about 2 tsp of lemon juice.
4.
Mix it all together and mash potatoes well.
For Fig and Plum Chutney:
1.
Place all the dried fruit in a pan with one sliced onion and bring to boil with one cup of water.
2.
Add in jaggery, sugar, red chilli flakes and white vinegar. Cook till the water is almost dry, then add in another cup and keep the heat constant.
3.
Add in the mustard seeds, at the end.
4.
Layer duck, potatoes and chutney and serve.