Story Progress
Back to home
Carrot, Peanut and Prune Salad Recipe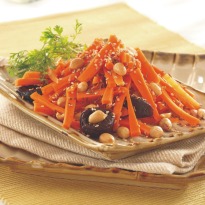 A summer salad, tossed with a tangy caramel and orange dressing, that goes very well with Indian dishes. With the crunchiness of peanuts and carrots, this salad is a great option for a brunch.

Ingredients of Carrot, Peanut and Prune Salad
Dressing:
2 Tbsp sugar
1/2 cup orange juice (fresh or tetra pack)
1/4 cup lime juice
1tsp cumin juice
1 tsp cumin seeds, roasted and roughly crushed
1/2 tsp salt
1/2 tsp pepper
Salad:
6-8 pitted California prunes
500 g carrots, peeled and cut into julienne
1/2 cup roasted peanuts, roughly chopped
2 Tbsp chopped coriander leaves
2 Tbsp sesame seeds, roasted
2.
Place sugar in a pan on moderate heat until you get a dark caramel.
3.
Remove pan from heat and carefully add orange and lime juice.
4.
Return pan to heat and stir continuously until you get a smooth, light brown, slightly thick syrup.
5.
Stir for a few minutes longer and remove from heat. Mix in cumin, salt and pepper. Set aside.
7.
Steam carrots for 1 minute. Cool and refresh in ice water. Drain.They should still be very crunchy and bright orange in color.
8.
Cut prunes into halves. Place all ingredients for salad in a bowl or platter and pour on the tangy caramel dressing.
9.
Toss to coat salad evenly. It is not essential, but preferable, that the salad is chilled.
10.
Tip: Use orange carrots, as the red ones tend to be too watery.