Story Progress
Back to home
Chamomile Vodka Cooler Recipe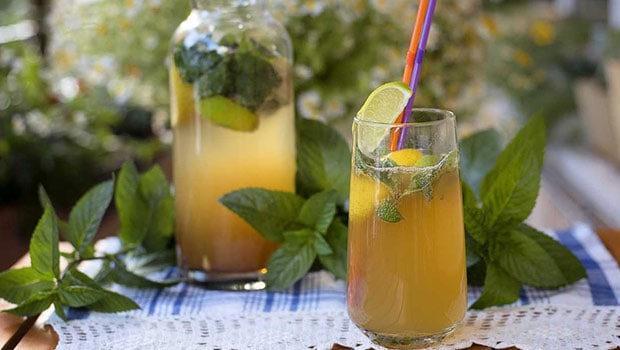 How to make Chamomile Vodka Cooler
A light, relaxing and refreshing summer cooler, Chamomile Vodka Cooler is an amazing cocktail to freshen up and enjoy an evening with friends or family. Chamomile is a great ingredient to use in beverages like tea or coolers for all the health benefits it has to offer which includes treating problems like gastroenteritis, nausea, cramps, etc.

Ingredients of Chamomile Vodka Cooler
For vodka:
250 ml Vodka
3 tbsp Chamomile (loose)
For cocktail:
120 ml Infused chamomile vodka
60 ml Lemon juice
2 tbsp Honey
For garnishing Lemon wedge
For garnishing Mint leaves
Prepare infused vodka:
1.
Place vodka and loose tea in a medium mason jar and cover tightly.
2.
Shake jar occasionally and let it steep for about 12 hours.
3.
Strain vodka through a fine mesh strainer into a large measuring cup.
4.
Pour tea infused vodka back into the original mason jar.
Prepare cocktail:
1.
Fill two old-fashioned glasses with ice.
2.
Add vodka, lemon juice, mint leaves followed by honey and stir well.
3.
Garnish with lemon wedge.