Story Progress
Back to home
Chicken in Net Parcels Recipe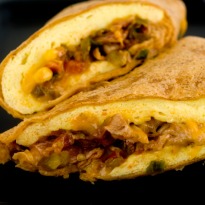 Chicken fried with corn, curry leaves and masalas, wrapped in a fried egg with coriander leaves.

Ingredients of Chicken in Net Parcels
250 gm chicken mince
1 Tbsp chopped coriander stems
1 tsp garlic cloves
1/2 tsp black peppercorns
2 Tbsp oil
1 finely chopped onion
1/2 tsp cumin seeds
8 curry leaves
1 tsp shredded ginger
1/2 tsp chilli powder
2 Tbsp sweet corn kernels
1 Tbsp lemon juice
For the egg nets -
6 beaten eggs - seasoned with salt and pepper
Coriander leaves
1.
Grind coriander, garlic and peppercorns together.
2.
Heat oil. Fry paste for 2-3 minutes.
3.
Add onion, cumin, curry leaves and ginger.
4.
After 2 minutes add chilli powder and chicken.
6.
Add corn and lemon juice.
8.
Drizzle on the egg in a net pattern.
9.
Cook on a moderate flame.
10.
Place coriander leaves on the net.
11.
Add chicken. Turn over and fold to form a packet and serve hot.