Story Progress
Back to home
Chicken Layonnaise Recipe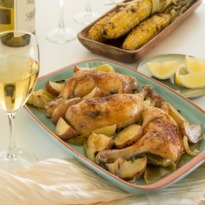 How to make Chicken Layonnaise
This classic dish was part of the menu on the Titanic and for good reason. Juicy pieces of chicken breast sauteed in butter, onion and garlic make a flavourful tasty delight.

Ingredients of Chicken Layonnaise
200 gm chicken julienne
100 gm butter
50 gm onions
10 gm garlic
60 gm capsicum
60 gm tomatoes
3-4 black olives
Spinach-boiled
Sauteed potato
Sauteed carrots
sauteed beans-boiled
sauteed 60 ml
White Wine salt
pepper-to taste
1.
Heat butter and saute onions and garlic for about a minute.
2.
Add chicken and quick fry on high heat until chicken gets a brown texture on the outside.
3.
Add capsicum and tomatoes and sauté for a minute.
4.
Then add the white wine and season with salt and pepper.
5.
Add the black olives and serve with vegetables.