Story Progress
Back to home
Chilled Watermelon and Beet Soup Recipe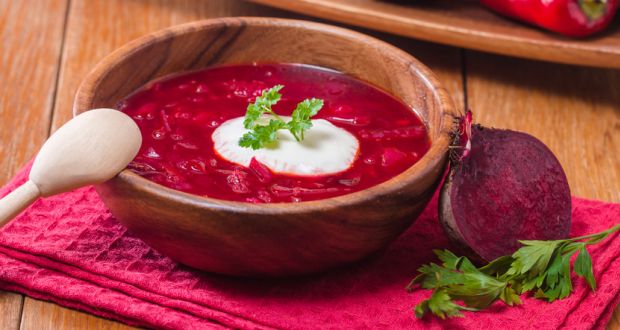 How to make Chilled Watermelon and Beet Soup
About Chilled Watermelon and Beet Soup/ Soup Recipe : A fresh and fruity soup made with watermelon, beetroot, orange juice and cream. Serve chilled on a summery day!

Ingredients of Chilled Watermelon and Beet Soup
2 Cups watermelon chunks
1 cup cooked beets (peeled and diced)
1 cup orange juice
1 tsp minced ginger
2 cups vegetable stock
1 tbsp lemon juice
1/2 cup cup cream
to taste Salt and pepper
coriander
For cooked beetroot:
1.
Add some salt and pepper to the beet root.
2.
Cover it with foil and slowly bake it in the oven at 180 degrees for 30 minutes. This can be done in a pressure cooker as well.
For the soup:
1.
Take some watermelon, ice cubes, cooked beetroot and ginger in a mixing jar.
2.
Add salt and black pepper.
3.
Then pour some orange juice and vegetable stock.
4.
Add cream and basil leaves for flavour and blend it well.
5.
Garnish with orange peel and rice sprouts. Add a little cream and serve chilled
Recipe Notes
If you like tomato then you can add tomato in the soup.