Story Progress
Back to home
Chilli Burgers with Pepper Relish Recipe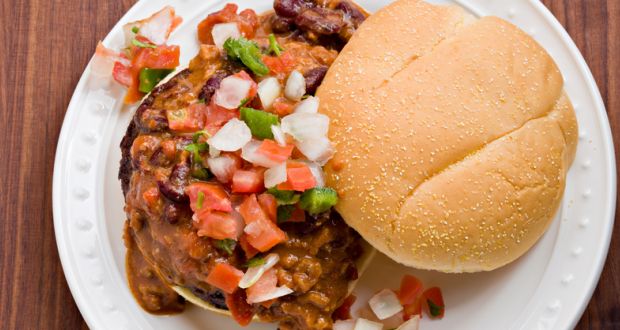 How to make Chilli Burgers with Pepper Relish
An American recipe of chilli burgers. A spiced lamb patty slapped between burger buns served with a roasted red bell pepper dip.

Ingredients of Chilli Burgers with Pepper Relish
50 gm butter
2 large diced onions
3 chopped red chillies
2 tsp cumin roasted, ground
400 gm lamb, minced
1 Tbsp mustard
1 Tbsp Worcestershire sauce
300 gm kidney beans, pureed, cooked
75 gm fresh bread crumbs
4 Tbsp parsley, chopped
1 large egg, beaten
Oil for shallow frying
6 buns
1 onion, sliced
2 large tomatoes, sliced
1 lettuce, shredded
Flour to coat
For roasted pepper relish:
1/2 kg red bell peppers, quartered and seeded
1 tsp roasted cumin
2 Tbsp chilli sauce, mild and sweet
50 ml salad/olive oil
2.
1. Grill peppers until skin blackens. Remove skin.
3.
2. Blend the peppers with cumin and sauce until smooth.
5.
4. Cover and chill before using.
For the chilli burger:
1.
1. Heat butter, add onion, chillies and cumin.
2.
2. Cook until onion softens.
3.
3. Combine with meat, mustard, sauce, bean paste, breadcrumbs, parsley and egg. Mix well. Shape into 6 large patties.
4.
4. Chill well and coat with flour. Shallow fry in hot oil until colored and cooked.
5.
5. Halve and toast bread rolls. Spread with relish, top with burgers, lettuce, onion rings and tomato slices.