Story Progress
Back to home
Chocolate Easter Eggs Recipe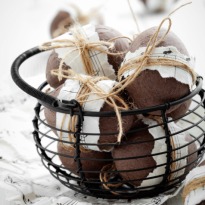 A favorite preparation during Easter. An egg-shaped dessert made with milk and butter and dipped in chocolate.
Total Cook Time

1 hr 10 mins

Ingredients of Chocolate Easter Eggs
1 cup soft butter
2 tsp salt
4 tsp vanilla
1 can condensed milk
10 cups icing sugar
1 tsp yellow food coloring
500 gm semi-sweet chocolate
1.
Beat the butter, salt and vanilla until fluffy.
2.
Add milk and sugar and beat till its well blend.
3.
Dust with some icing sugar and then knead it till its smooth.
4.
Set aside more then 2/3 of mixture.
5.
To the remaining mixture add the food coloring, and blend well.
6.
Divide the yellow and white batter into 16 or 24 pieces.
7.
Shape the yellow batter into balls, mold white around yellow to form an egg shape.
8.
Dry at room temperature on paper towels for 24 hours.
9.
Melt chocolate in double boiler or a microwave until smooth.
10.
Dip eggs into the chocolate.
11.
Once dipped, cool at room temperature and then refrigerate.