Story Progress
Back to home
Chocolate Pots Recipe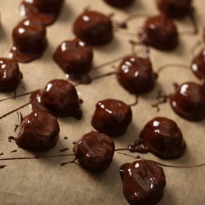 A treat of tasty and nutty dessert for all those chocolate lovers with a dash of rum!

Ingredients of Chocolate Pots
150 gm bitter chocolate
25 gm butter
3 eggs separated
1 Tbsp rum
To decorate:
Whipped cream
Some assorted nuts
1.
Melt the chocolate and the butter together in a bowl placed over a pan of simmering water. Remove the pan from the heat.
2.
While still warm, stir in the egg yolks and leave the mixture to cool.
3.
Whip the egg whites to a soft peak stage. Gently fold into the chocolate mixture.
4.
Flavor with rum and pour into small dishes. Chill overnight.
5.
Decorate with whipped cream and nuts before serving.